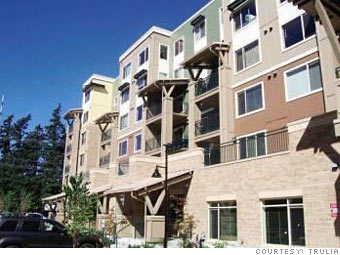 Average list price:
$775,000
Average annual rent:
$35,900
Price to rent ratio:
21.5
This small, densely populated city by the bay has a geographically constrained housing market. Surrounded on three sides by water and to the south by other urban centers, there's little developable land available making adding to the housing supply very expensive.
Home owning, however, has been very desirable, with buyers before the bubble earning high returns on their investments. Prices in the metro area have dropped significantly during the bust, down about 27%, according to the National Association of Home Builders and Wells Fargo, but still stand at a median of $585,000.
In the core city, prices are even higher, with a two-bedroom condo selling for a median of $775,000, according to Trulia. Rents are nowhere near as inflated with a two bedroom costing less than $3,000 a month. That makes the price-to-rent ratio more than 21, firmly on the rent side of the equation.
More galleries
Last updated June 14 2010: 2:22 PM ET