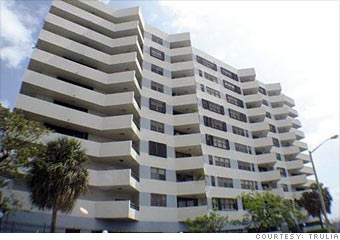 Average list price:
$190,000
Average annual rent:
$24,200
Price to rent ratio:
7.8
Miami went through a huge building boom during the bubble, leaving it with a glut of condos after prices collapsed. Prices are down more than 56% from their early-2008 high, according to the National Association of Home Builders and Wells Fargo.
Trulia pegs the average monthly rent at more than $2,000 for a two-bedroom apartment, which brings the price-to-rent ratio in under 8. Many of the fancy condo buildings that were planned during the boom but completed after the bust have been converted to rentals because sales were so slow.
The housing bust and recession has also taken a toll on the local economy. The unemployment rate stood at 10.9 in April, a point above the national rate. That has weakened the market for both purchases and rentals.
NEXT: Fresno, Calif.: Buy
Last updated June 14 2010: 2:22 PM ET