The upper-middle class lifestyle has many trappings, including the house. Here's what 4-bedroom, 2-bath homes in good neighborhoods cost across the country, according to Coldwell Banker's annual index.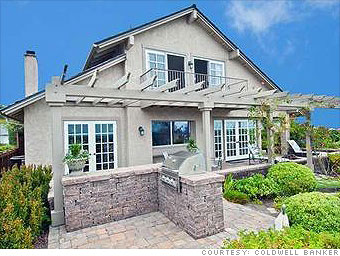 Average list price: $1.8 million
This home sells for: $1.849 million
Description: Newport Beach was the most expensive city on Coldwell Banker's list, based on the average home price for a 4-bedroom/2-bath house in a good neighborhood.
Newport Beach definitely qualifies as a good neighborhood, with its miles of beautiful beaches. This very pretty, modern house is just a few miles from ocean, plus it features a quarter-acre lot with patio, fire pit, lush lawn and great views.

Newport Beach is geared to residents into an active lifestyle. In addition to the beaches, it's a quick getaway to both the desert and mountains. The community association provides a swimming pool, spa and tennis courts.

For more information: Trulia
NEXT: Least expensive city: Detroit

Last updated September 27 2010: 5:21 PM ET