Need new cabinets or back splashes? Before replacing what you have, see if you can fix them.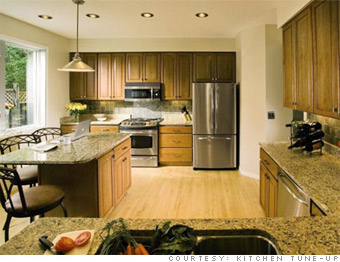 The kitchen may just need a touch-up, not a gut renovation.
Dated and drab cabinets. Damaged kitchen floors. A rusted old tub. When faced with such problems, many homeowners think they have one of two choices: cough up big bucks for replacements, or grind their teeth and live with it. But many household flaws can be repaired for a fraction of starting over. Here are four jobs where it pays to work with what you have.
NEXT: Broken tiles
Last updated October 04 2010: 5:02 AM ET