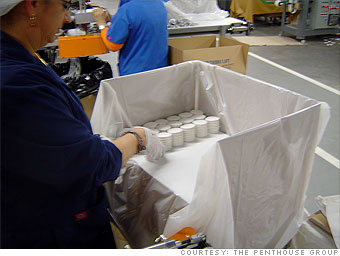 Open almost any jar of face powder or blush and inside you'll find a fluffy fabric poof for applying the makeup. The iconic powder puffs are ubiquitous in the products of cosmetics giants like Proctor and Gamble, L'Oreal and Estee Lauder, but just one American company still manufacturers them.
The Penthouse Group, in Freeport, N.Y., has kept the company in the family for three generations and now makes about 25 million powder puffs each year. Competition from China is the biggest threat to the business, President Steven Ostrower says, but Penthouse has managed to stay competitive by creating totally automated production lines that keep its overhead down.
"We have tremendous overseas competition, and their cost of labor and overhead is miniscule," Ostrower says. "But we have the most efficient manufacturing lines in the world and can out-produce our Chinese competitors with greater technology and ingenuity."
The company employs 75 people in its 65,000 square foot factory in Long Island.

NEXT