'It's the fear of the unknown'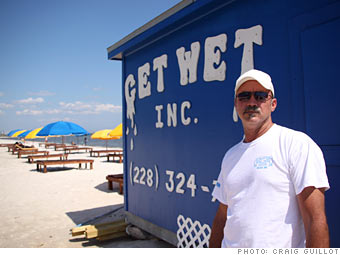 Pat Pigott
Owner, Get Wet Inc.
Biloxi, Miss.
If oil starts washing ashore on the beach at Biloxi, few visitors will want to plant their feet in the sand. Pat Pigott has been renting jet skis, catamarans, paddle bikes and umbrellas on the beach for more than 25 years. He's survived Hurricane Katrina and a few other storms, but this is the first time he's faced a manmade disaster on the beach.
"It's the fear of the unknown," Pigott says. "With a hurricane, you basically know what's going to happen. We just don't know what's going to happen with this."
Business has already taken a nosedive: By midday Tuesday, Get Wet had only made $40 from a couple of customers. A week earlier, sales were twenty times higher.
Pigott estimates that he has more than $200,000 invested in his jet skis and equipment. With notes to pay on the jet skis and little revenue coming in, Pigott says he's never been so worried.
The entire beachfront area of Biloxi was destroyed in Hurricane Katrina in 2005. Pigott says his business "barely survived." He held on for almost two years until he was able to open back up. As the hotels and restaurants started to rebuild and tourists trickled back to town, his sales began to pick up. Judging from April's revenues, Pigott thought 2010 was going to be the comeback year.
Whether or not much oil reaches the shore, Pigott fears that a tremendous amount of damage has already been done to the area's image.
"Even if by some miracle, they stop [the oil] and it goes another way, the stigma of something being in the water is going to slay us," Pigott says.

NEXT: Plan B ... and plan C ...