Plan B ... and plan C ...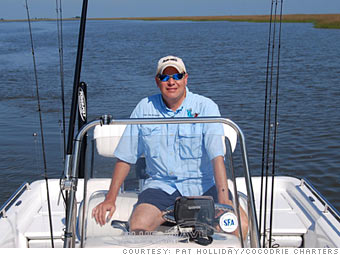 Pat Holliday
Charter fishing captain and lodge manager, Cocodrie Charters
Cocodrie, La.
Pat Holliday has been fishing out of Cocodrie, La., for more than 20 years. Running the waters off Timbalier and Last islands, he's seen all kinds of strange things in the Gulf, but nothing like this. While the oil patch has yet to move west of the Mississippi River, its path changes almost daily. Holliday watches its direction as he would a hurricane.
"I've already been recieving e-mails from customers, and got three this morning that have trips booked up asking what is going on," he says. "A lot of people are concerned."
Cocodrie Charters is just coming into its busy season. In Holliday's line of work, all of his annual revenue must be made in a window of seven to eight months, which began a couple of weeks ago. Holliday has five full-time boats and runs a lodge that can accommodate up to 20 customers. If oil moves into his fishing waters and shuts down his opertions for the year, his company would lose at least $100,000 from charters that are already booked for the summer.
"If I can't fish, the boats go on the trailer," Holliday says. "If it gets really bad, the boats are going for sale and I'm out of buisiness after 17 years as a captain."
Holliday has already sent out resumes to two friends who work in oilfield service companies. Should the waters be shut down, he hopes to use his credentials and boats to help in the recovery.
He also has a bachelor's degree in engineering, something he hopes will give him "another end" should the fishing industry be washed away with the oil. Like many entrepreneurs around New Orleans, Holliday has learned to be flexible. His lodge hosted FEMA workers for more than three months after Katrina, a move he could repeat if oil cleanup becomes a local cottage industry.
But he's crossing his fingers that won't be necessary. "Right now, we're just hoping the weather doesn't blow [the oil] our way," he says. "People are starting to freak out."

NEXT: A fishing season in limbo