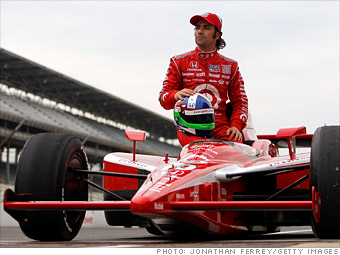 Not all sponsorship deals are the basic dollars-for-logo-placement swap. The associate level is mostly for companies that want to get involved with IndyCar in order to offer a unique experience to potential clients, or to do business-to-business marketing. In these cases, they'll set up a "hospitality package," which could include tickets to races, freedom to bring clients by the pit to meet drivers, or space in fancy suites.
Getting in at the associate level, sometimes called "contingency" sponsorship, costs anywhere from
$50,000 to $500,000
and, when these deals do involve brand placement on a car, the available spots are small: two thin strips on either side of the cockpit and one slim space at the very back of the tail.
Doug Boles, PR director for the Speedway, says that for associate sponsors, "Brand recognition isn't the biggest part of it. Many use the sport to build a relationship with the customer, and use the racing program as the reason to bring clients as VIP guests." He adds that Indy drivers, even big names like Helio Castroneves and Dario Franchitti, "tend to be far more accessible than an NFL player."
In addition, some of the drivers make personal service agreements (PSAs) of their own -- simple "helmet logo" deals that are often done for
$150,000-$350,000
-- that teams allow if there are no conflicts with other partners. Franchitti, a Chip Ganassi team driver, has a relationship with TW Steel, a watch company, so part of their deal lands that logo on the side of his helmet. He has a similar PSA deal with AXA Insurance, the name that sits on the front of his helmet. Often, teams don't see any money from driver PSAs.