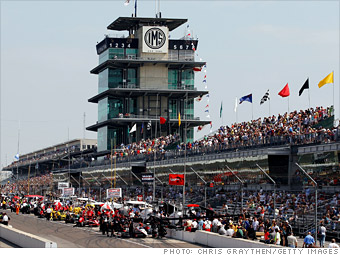 The checkered flags will wave on Sunday, May 29 for this year's Indianapolis 500 race. Though it isn't the 100th running of the Indy, 2011 marks the 100th anniversary of the race's inception. According to spokespeople from IndyCar and Izod, which is this year's title sponsor, the 100th is bringing big bucks -- this year's race will see significantly more sponsorship money than in past years.
Because the Indianapolis Motor Speedway and the IndyCar Series are privately owned, corporate sponsorship dollars aren't public. But
Fortune
did some digging and arrived at reliable estimates that give a picture of IndyCar's business. There are sponsors that get in only at the team level, and sponsors that make deals with the Speedway directly, but our look here focuses mostly on deals with IndyCar.
The organization offers businesses the chance to get involved at one of four levels: title sponsor, major sponsor, major associate, and associate.