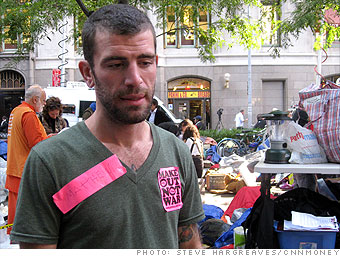 From: Savannah, Ga.
Occupation: Chef; Army veteran
After a few days at Occupy Wall Street, Ingram volunteered to help at the "comfort station." He passes out sleeping bags, coats and duffel bags to those who need them.
He came to the protest because he was heartened by the idea of people putting their complaints into action.
"The power in this country does not lie where it should," he said. "It's not with me, it's not with you. Power lies in the hands of the highest bidder."Meanwhile, he added, "most people are living paycheck to paycheck. People know that it's not right, yet they usually just sit back and complain and don't do anything."
With Occupy Wall Street, Ingram said, people are coming out and voicing their opinions.
"We're all here for different reasons, but we're standing united with common ideals," he said. "Whether our goals are met or destroyed, we're all better people for having been here."