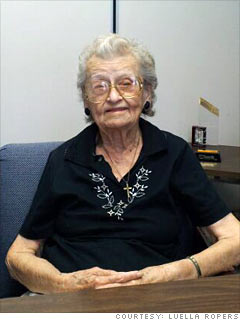 Customer since: 1950 (61 years)
Age: 101
Bank: U.S. Bank (formerly First National Bank of Aurora)
Hometown: Aurora, Ind.
My husband and I opened an account because it was very close to me and convenient, and I've been there ever since. When you go in you feel at home. The personnel have always been very good.
They talk to you like they know you. They discuss the day, and make you feel like one of them. I would talk to them even longer if they had the time -- they are very busy.
I go there to take out cash every couple of weeks. It's in the same building where it's been forever, right downtown.
I'm too old to do anything on the computer, and that's fine with me. But they did set up direct deposit for me for my Social Security. I didn't know I was one of the first people to sign up for direct deposit, but I guess I was.