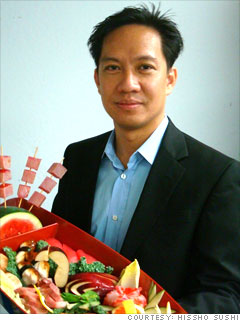 Company: Hissho Sushi, Inc.
Owner(s): Philip Muang
Location: Charlotte, N.C.
Hiring: 30
Being the guest of the First Lady as President Obama delivered his American Jobs Act speech to a Joint Session of Congress, was a bit surreal for Philip Muang. He was being touted for "his visionary leadership in tough economic times," when only 13 years ago, he didn't even have a company to lead.
Back in 1998, he and his family sat around their dining room table, talking over plans to start what would eventually become Hissho Sushi.
In 1989, Muang, a Burmese immigrant, planned to attend college when he relocated to Los Angeles. But he couldn't raise the tuition money, so instead he worked in a factory shipping department by day and a gas station at night while studying to get his real estate license.
The 16-hour days paid off, and he was able to sock away a considerable amount of money. Then the recession hit. "I am a very impatient person and couldn't wait for the housing market to recover, so I started looking for other opportunities," said Muang. He found that opportunity in sushi.
Muang partnered with a vendor who made sushi in California supermarkets and gained exclusive rights to open similar venues in Florida. He used $100,000 in savings to open sushi departments in supermarket chains in Orlando, opening one every two to three weeks.
He soon started Hissho and chose Charlotte, N.C., as a location.
The company owns 20% of the 400 locations in 28 states nationwide. Independent chefs lease the other 80% for "a little money" and share revenues with Hissho. The company will soon start selling franchises.
The company provides training in its 46,000-square-foot headquarters, complete with labs, kitchens and even a karaoke room. Hissho buys its fish from Japan, Louisiana, and other markets domestically and internationally.
Though costs are going up dramatically due to the weak dollar and natural disasters such as Japan's tsunami and the Gulf oil spill, Muang sees a bright future.
"It will take a while to recover from this economic trouble. But I have much confidence in this country. With its long history of democracy, it encourages people to invest."