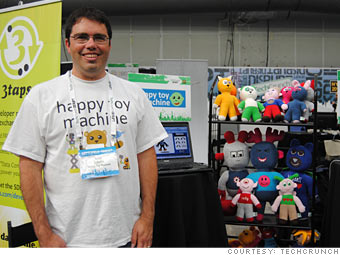 HappyToyMachine.com
Founders:
Scott Schube
Headquarters:
Milpitas, Calif.
Founded:
2008
Although they weren't slated to present, Happy Toy Machine got the opportunity to pitch influential judges after winning the audience choice category.
Founder Scott Schube took the stage with a bundle of plush toys, which he passed out to the judges. Schube described Happy Toy Machine as "Build-a-Bear on steroids." The five-employee company, which recently launched its website in private beta, has been working on Happy Toy Machine for over two years, he said.
"Our mission in life is to give users the ability to create cool, cute and crazy custom plush toys online," he said.
Schube saw the trend towards online customization as an opportunity to let people create unique playthings. On Happy Toy Machine, users choose their own colors, body parts, and decorations for plush toys. Those designs are then manufactured and sent to them. Prices range from $30 to $50 per a toy, similar to Build-a-Bear prices.
In the future, Schube wants to personalize toys further, allowing users to upload photos that could be embroidered.