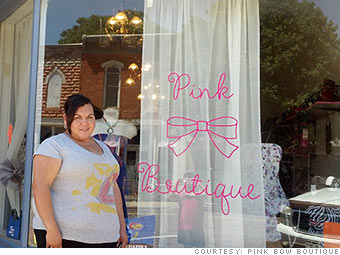 Company: Pink Bow Boutique
Who: Amabelly Barrera
Where: Harper, Kan.
When Amabelly Barrera followed her oil boom-chasing husband from Grand Junction, Colo., to Harper last year, she decided to keep busy by launching a clothing boutique on Main Street.
Her shop, which she named Pink Bow Boutique out of her love for the color, opened in January and sells women's clothing, purses and wallets. And while it got off to a slow start, it is now booming with female oil and wind workers and other women who have moved to the area this year with their spouses.
"I've been getting more and more customers who I've never seen before," she said. "These five girls working at the wind farm have been coming in a lot, for example, and they've told their friends and it just spreads from word of mouth."
Barrera estimates that half of her customers are locals, and half are newcomers. She is selling 20 purses a month, compared to about seven a month during the first couple months in business. Overall daily sales are up about 45%.
To meet the new demand, she is now also selling trendy flame resistant shirts, pants and hats for oilfield workers.