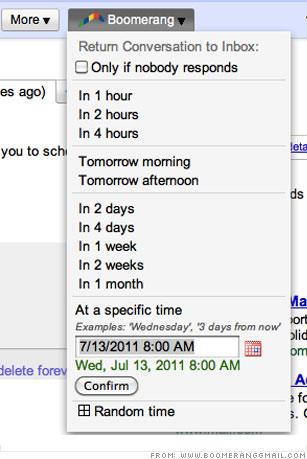 Startup: Baydin
The details: Based in Mountain View, Calif.; 4 people
Their story: Baydin's Boomerang e-mail management app helps you cut through your inbox deluge by scheduling messages. If you want to save an important note to deal with later, you can "boomerang" it: pick a time and it will vanish from your inbox until you've scheduled it to reappear. You can also set follow-up reminders to alert you at the times you choose. The software works with Gmail and Microsoft Outlook.
Their pivot: Baydin has been around since 2009, on a journey CEO Alex Moore describes this way: "Lost the founder, got new founders, changed the product ..."
The latest iteration seems to be sticking. Boomerang just crossed the 1 million downloads mark and helped Baydin draw a round of seed funding. "I drove Dave McClure to his auto mechanic and pitched him on the way," Moore says. "He was our first investor."