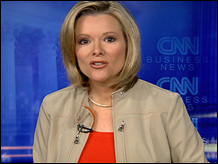 CNN's Gerri Willis shares five tips on how to beat record level gas prices. (August 12)
Play video

NEW YORK (CNN/Money) - Gasoline prices climbed above $2.60 Friday to set a seventh straight record, according to travel club AAA's daily fuel gauge report.
The nationwide average price for a gallon of regular unleaded hit $2.601, up almost 2 cents from the previous day, according to AAA, the largest U.S. motorist organization, formerly known as the American Automobile Association.
The price of a gallon of gas has jumped about 19 cents during the past week, nearly the same gain made over the course of the three previous weeks. In the last year, prices have gained about 73 cents, or almost 39 percent.
When inflation is taken into account, today's AAA record-high price is still below the all-time high set during the Iranian revolution in the early 1980s when gas prices were the equivalent of $3 a gallon.
But prices have jumped above $3 a gallon in some cities and towns, even though the national average price for a gallon of gasoline hovers near $2.60.
Residents pay the most in California, where the average price for a gallon of regular unleaded hit $2.792. They pay the least in Utah, where $2.441 is the average price.
Retail diesel, meanwhile, is at $2.638, a gain of about 77 cents from last year's price.
Gasoline prices have tracked steadily higher since early July and have been blamed for higher-than-expected costs in this week's Consumer Price Index and Producer Price Index reports.
The combination of high prices at the pump and a handful of higher-than-expected inflation readings have some economists worried that inflation is back. (Full story.)
And retailers are worried about the effect that high gasoline prices have had on consumers, with back-to-school shopping forecasts dim and poor earnings and sales weighing on stores from Wal-Mart (up $0.13 to $47.24, Research) to Abercrombie & Fitch (down $0.11 to $58.74, Research).
___________________
Wanna bet on gas at $3 a gallon? Click here.
Oil prices have to eventually hit their tipping point. For more, click here.
High gas prices may make a blue holiday for shoppers and retailers. Click here for more.
Read why the inflation dragon is back.