'Me-too' drugs rake in sales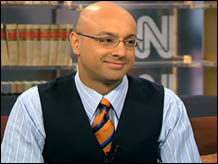 CNN's Ali Velshi takes a closer look at a potential mechanics' walkout at the airline. (August 19)
Play video

NEW YORK (CNN/Money) - Stocks finished nearly flat Friday as soaring oil prices and a guilty verdict in the Merck Vioxx case wiped out earlier gains made on company share upgrades and rising energy stocks.
The Dow Jones industrial average (up 4.30 to 10,559.23, Charts) and the broader Standard & Poor's 500 (up 0.69 to 1,219.71, Charts) inched slightly higher.
The tech-heavy Nasdaq composite (down 0.52 to 2,135.56, Charts) was little changed. The Dow had been up more than 0.6 percent in morning trading.
Shares in Merck (Research) fell around 8 percent in late trade after a jury found the drugmaker liable for deaths related to its painkiller Vioxx and awarded $253 million to the family of a Texas man who died while taking the drug.
Before the Merck verdict markets looked set to close modestly higher, which would have helped offset a generally down week.
"There's some earnings optimism," said Som Dasgupta, head of equity trading at PNC Financial Services, explaining how the market was able stay in positive territory due to upgrades made today, upgrades that he said were based on predictions that high energy prices won't cut too sharply into profits.
Dasgupta also said markets were able to weather rising oil prices because crude in the mid $60s range has already been priced in. "It doesn't really matter unless we see high $60s or low $70s," he said.
Oil jumped Friday, with the September light crude futures contract up $2.08 to settle at $65.35 a barrel on the New York Mercantile Exchange.
Crude futures have weighed on stocks ever since they hit a record high of $67.10 a barrel last Friday.
Heading into the session, the Dow was down 0.4 percent on the week, the S&P 500 was down 1 percent and the Nasdaq was off 0.8 percent.
Investors will look for home sales numbers due Tuesday, durable goods orders due Wednesday and a reading on consumer confidence set for Friday to help guide them in the week ahead.
Upgrades lift the market
UBS upgraded Coca-Cola (Research) to a "buy" recommendation from "neutral," sending shares up almost than 2 percent.
Other stocks moving higher on analyst upgrades include financial services company Mellon Financial (up $1.25 to $32.36, Research), teen retailer Aeropostale (up $0.85 to $24.60, Research), auto parts company Delphi (up $0.44 to $6.36, Research), networking equipment maker Ciena (up $0.08 to $2.13, Research) and mining company BHP Billiton (up $0.06 to $17.00, Research).
Genentech (up $1.43 to $89.15, Research), which was initiated at Banc of America with a "buy" rating, saw shares up over 1 percent.
Winners beat losers on the New York Stock Exchange nine to seven as 1.21 billion shares changed hands. Meanwhile, advancers narrowly topped decliners on the Nasdaq as 1.23 billion shares were traded.
Energy gains, retail falls
Merrill Lynch upped its full-year and long-term oil price forecasts on tight supplies. The news sparked a minor rally in energy stocks as BP (Research), Chevron (up $0.44 to $59.92, Research) and ExxonMobil (up $0.71 to $58.82, Research) shares all gained around than 1 percent.
The retail sector this week blamed record high gasoline prices for poor sales and earnings, leading economists to speculate that high fuel prices are finally taking a bite out of consumer spending.
Clothing retailer Gap (down $0.41 to $19.74, Research) fell almost 2 percent Friday after its shares were downgraded by Jefferies from "buy" to "hold."
Most recently, Gap posted improved profits that topped forecasts, but trimmed its 2005 earnings outlook.
Shares in Federated Department Stores (Research) lost over two percent after the rating agency Standard & Poor's said late Thursday it plans cut the retailer's debt rating to BBB, which is two notches above junk status. J.C. Penney (Research) also fell over one percent.
Fellow retailer Ann Taylor (up $1.56 to $26.60, Research) said quarterly profit fell because it was forced to mark down prices to clear out summer inventory.
Stocks to watch
Caterpillar (up $1.67 to $54.82, Research) was the top percentage gainer on the Dow, up over 3 percent on news that it plans to expand in China.
Sanofi-Aventis (up $0.84 to $43.80, Research) added 2 percent on news that a Phase III study reported in the Journal of Clinical Oncology showed that its Taxotere was more effective in helping advanced breast cancer patients than Bristol-Myers' (down $0.20 to $24.68, Research) paclitaxel.
Engineering software maker Autodesk (up $2.06 to $40.41, Research) said second-quarter earnings rose 93 percent from a year ago and that it sees similar results for the current quarter, a forecast that is above the Wall Street consensus estimate. Shares rose over 5 percent.
Hong Kong-based Chinadotcom (up $0.14 to $3.34, Research) swung to break-even in the second-quarter as revenue jumped 43.9 percent. Shares closed up about 4 percent.
And TiVo (up $0.24 to $5.80, Research) shares gained around 4 percent on an Associated Press report that said the company is a potential Google (up $0.01 to $280.00, Research) acquisition target.
Meanwhile, Northwest Airlines (Research) and leaders of its mechanics union met Friday in an effort to hammer out a contract before a midnight deadline. The union is allowed to go on strike at 12:01 a.m. ET Saturday, but a handful of brokerages have said the company has priced in the cost of a strike.
Major markets in Asia closed mostly lower Friday. Major European bourses closed higher.
Treasury prices were little changed, with yields on the ten-year at 4.20 percent. The dollar rose slightly against the euro but edged down against the yen.
Comex gold lost $2.50 to $442.20.
_____________________
Are the worst two months on tap for stocks? Click here for more.
Is the inflation dragon back? Click here for more.
Will high gasoline prices mean a blue Christmas for holiday shoppers? Click here for more.
Click here for today's hot stocks.