NEW YORK (CNNMoney.com) -- Durect is developing an abuse-resistant form of the addictive painkiller OxyContin that has a good shot at being a blockbuster, but it faces a minefield of potential patent battles.
While other companies are striving to fill their pipelines with new drugs, Durect Corp. is developing new ways to ingest old drugs like OxyContin. Durect (up $0.04 to $4.49, Charts), a relatively small pharma pioneer with a market capitalization of about $400 million, is tweaking methods of drug delivery.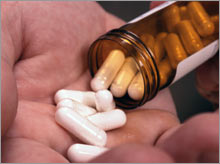 Purdue Pharmaceuticals' painkiller OxyContin is a pill that can be crushed into powder and snorted, a favorite form of delivery for addicts seeking to abuse the drug. (A Google search on the words "oxycontin" and "snorting" came up with 508,000 hits, as opposed to 373,000 hits for "oxycontin" alone.)
To try and reduce abuse of the painkiller, Durect is developing Remoxy, a gel cap form of OxyContin, with its partner King Pharmaceuticals (down $0.05 to $17.45, Charts). Remoxy is swallowed like the standard pill, but addicts would no longer have the option of putting it up their noses.
"[Remoxy] can't be crushed up and snorted because it's a gel cap," said Durect Chief Executive James Brown. The CEO also said that the Remoxy loses potency when combined with alcohol, unlike other painkillers, which gain potency when added to alcohol, with dangerous and sometimes fatal results.
Analysts expect Durect, based in Cupertino, Calif, to announce results of late-stage tests for Remoxy in mid-2007. The company could bring the product to market next year.
"I think the FDA will act on [Remoxy] rather quickly because OxyContin is kind of a mess for [the agency]," said Jon Hickman, analyst for MDB Capital Group.
Hickman said that Remoxy could take half of OxyContin's annual sales, because the gel cap painkiller would be favored by doctors who "had the opportunity to prescribe the same medication but with less potential to make it to the party scene." (Purdue spokesman Tim Bannon said that annual OxyContin sales used to total $1.5 billion, but have dropped "substantially" since drugmakers infringed the patent, slipping below $1 billion in 2005.)
The battle for OxyContin
Privately-held drugmaker Purdue holds patents on OxyContin. This drug has been the subject of patent battles with Teva Pharmaceuticals (up $0.22 to $34.39, Charts), the biggest generic drugmaker in the world, as well as Endo Pharmaceuticals - one of Durect's partners. Durect CEO Brown said these patent battles are related to generics and have nothing to do with his drug Remoxy.
In 2006, Purdue settled with Endo and Teva, which had been producing generic versions of oxycodone, the active ingredient in OxyContin. Teva and Endo agreed not to produce generics in exchange for Purdue's agreement not to pursue them for damages related to their production of generic OxyContin.
Purdue intends to keep defending its patent going forward.
"We have several valuable and valid patents with respect to OxyContin and we will enforce them," said Timothy Bannon, spokesman for Purdue.
Will this spell trouble for Durect?
Russell McAllister, analyst for Merriman Curhan Ford, doesn't think so. In a note published in September, he said the settlements "remove a significant overhang" from Durect, prompting the analyst in September to upgrade the company to a "buy" from "neutral." Also, McAllister and other analysts believe that Durect and its partners will be able to go forward producing Remoxy, despite Purdue's OxyContin patent.
"But to put it bluntly, Purdue's patents are not robust," said McAllister to CNNMoney.com.
Brown, the CEO of Durect, said Remoxy is legally protected and he isn't worried about legal threats to his product. "Our partners are moving forward and we feel comfortable with where we are," said Brown.
McAllister said Remoxy has billion-dollar blockbuster potential, though sales would be divided among the partners. Even still, the analyst expects Durect to garner $120 million in royalties in 2009, which is nearly five times the company's estimated revenue for 2006.
Angela Larson, analyst for Susquehanna Financial Group, believes Durect a risky investment because the patent fight may not be over, though she gives the company a "positive" rating.
"The active ingredient for Remoxy may face patent infringement hurdles by Purdue, which has patents on the active ingredient in a different formulation," wrote Larson, in a published note from September, 2006.
Durect: Not a one trick pony
The next potential product in Durect's pipeline is Posidur, an injectable painkiller in late-stage testing. Unlike other painkillers that last a few hours, a single injection of Posidur is intended to last a few days.
The active ingredient is in a gel-like form, rather than a liquid. So Posidur breaks up and releases the active compound more gradually than a liquid, which dispenses quickly.
McAllister believes that Durect will launch Posidur in the second half of 2009. Durect will have to divide Posidur's European sales with its partner Nycomed. McAllister projected that Durect's portion of the sales for this drug will total $86 million in 2009, followed by $440 million in 2010, facing little or no competition.
"There are other companies that compete with [Durect] in terms of delivery technology," said McAllister. "But with Posidur specifically, there is very limited competition."
But testing of the drug has taken longer than investors expected, which put pressure on Durect's stock price in 2006 and attributed to its 13 percent decline, said Hickman of MDB.
Durect is also developing a painkiller patch that delivers an FDA-approved local anesthetic without needles through a Durect patch. With the patch, the anesthetic's effect can last up to three days, instead of 12 hours with the other currently available patches, according to Durect.
Durect is developing its Transdur-bupivacaine patch for for shingles-related pain. Mid-stage testing began on January 3, according to Durect, and analysts believe that late-stage testing could begin this year.
The pain patch, if it's successful, would enter the market in 2009 and would compete against Johnson & Johnson's (up $0.10 to $67.86, Charts) duragesic patch, a $1.5 billion product, said Hickman of MDB. Hickman projects that Durect's annual royalties from the patch would reach $200 million.
2007 will be busy for Durect, and analysts project the stock price to more than double during the next 12 months, according to Thompson Financial.
In November, McAllister wrote that 2007 promises to be a "critical year" for Durect. The company's "numerous catalysts" include late-stage results for Remoxy and mid-stage results for Posidur in the first half of the year.
Hickman owns shares of Durect stock, but the other analysts quoted in this story do not. Susquehanna Financial Group might make a market in the company, but the other investment firms mentioned in this story have not conducted investment services with Durect in the last 12 months.
(Correction: Durect is not developing the Transdur-bupivacaine patch with Endo as a partner. Endo is a partner for a different painkiller patch.)