Apple unveils new iPods, Wall Street yawns
CEO Steve Jobs gives the iPod line a makeover as sales of the company's mobile phone threaten to make the iconic music player obsolete.
Last Updated: September 9, 2008: 5:29 PM EDT
Timeline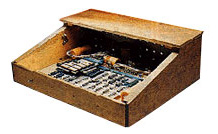 See key events for Apple and its CEO, from the company's start in 1976, when the Apple I was introduced, to its ascendance today.
View the timeline
NEW YORK (Fortune) -- Apple, the consumer electronics giant, on Tuesday rolled out new versions of its popular iPod music player, but failed to deliver the surprises that finicky investors have come to expect.
The new iPod line announced by CEO Steve Jobs at a press event in San Francisco, which Apple (AAPL, Fortune 500) dubbed "Let's Rock." Among other things, Jobs cut the price on the year-old iPod Touch and unveiled a new Nano video player.
Shares, which were flat throughout the presentation, fell 3% at the end of Jobs speech as investors signaled their disappointment that more sweeping changes in products and pricing weren't in the works.
A fresh line of iPods was widely expected ahead of the holiday shopping season. This time last year Apple announced the Touch and the Nano the year before that.
This time, however, the iPod is facing stiff headwinds as the iPhone, which comes with its own built-in MP3 player, threatens to make them obsolete.
As of July, Apple has sold more than 184 million iPods since their debut in 2001. Sales of the iPod, which once accounted for nearly 50% of Apple's annual revenue, were nearly flat last Christmas. Apple, citing NPD data, says the iPod has 73.4% of the portable music device market.
Watching Jobs closely
The new Nano is thinner than previous models and slightly curved. Among other features, the display screen changes orientation from horizontal to vertical depending on how the user holds the device. An 8-gigabyte model costs $150, the same price as the original 1-gigabyte model from two years ago.
The Nano also features a new service called Genius, which recommends songs or movies based on a user's interests and creates playlists based on songs the user has chosen. The device will also shuffle the playlist if a user shakes it.
Jobs also unveiled cheaper models of its Touch music player, a touchscreen-only device. An 8-gigabyte version now costs $229, down from $299. A 32-gigabyte model costs $399, down from $499.
All eyes Tuesday were also on Jobs and any sign of his health. Jobs was treated for pancreatic cancer several years ago and has been looking surprisingly thin in recent sightings, unnerving investors. He looked as thin Tuesday as he did at his last appearance in June.