Unsafe? Unsound? Take a taxpayer bailout
The FDIC took one Boston bank to task for its practices. Soon after, the Treasury offered up a $12 million check.
Last Updated: January 8, 2009: 4:21 PM ET
Tracking the bailout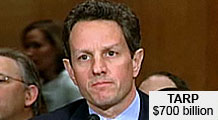 NEW YORK (Fortune) -- Which banks get saved and which are left to die? Few know the answer, and the Treasury Department continues to send mixed signals on how it is implementing the Troubled Asset Recovery Plan (TARP).
Under the plan, Treasury has pledged $162 billion to 208 financial institutions. Not all of them are either billion-dollar giants or institutions that obviously measure up to Treasury's own standard of "healthy banks."
Consider the case of OneUnited, a small Boston bank that was recently the subject of a federal enforcement action that questioned the bank's safety and soundness -- and was also the recipient of a $12 million TARP bailout.
In October, OneUnited agreed to a so-called cease-and-desist order issued by its regulators, the commonwealth of Massachusetts and the Federal Deposit Insurance Corp.
The allegations against the bank included "operating without effective underwriting standards and practices," "operating without an effective loan documentation program" and "engaging in speculative investment practices."
The action also alleged excessive executive compensation. The FDIC ordered OneUnited to "sell all bank-owned automobiles," and to require that executives reimburse the company for any vehicles that had been purchased. The Boston Business Journal reported in November that the bank owns a 2008 Porsche sport-utility vehicle that is registered at the address of OneUnited CEO Kevin Cohee.
The FDIC also ordered the bank to stop paying for a beachfront house in Santa Monica that, according to the Boston Business Journal, was purchased for more than $6 million in early 2007 by a group that included Cohee and his wife Teri Williams, the bank's president.
OneUnited settled the case without admitting or denying the findings, and agreed to undertake a program to fix its shortcomings.
The bank, which bills itself as the first black-owned Internet bank and carries the Community Development Financial Institution designation that Treasury awards to institutions serving low-income residents, said it is cutting costs and making other changes in response to the FDIC order.
OneUnited, in response to questions from Fortune and CNNMoney.com, said it was hit hard by a loss this fall on its holdings of preferred stock in Fannie Mae and Freddie Mac, and that the Treasury infusion would help it to restore its capital.
"We were a casualty, not unlike many banks, of the tsunami that devastated the entire industry," said OneUnited senior counsel Robert Patrick Cooper, who says the Treasury knew of the enforcement action when it approved the bank's TARP application. "With the TARP money, we look to continue our mission and increase our lending and investments."
The Treasury Department didn't comment for this story.
TARP mysteries
Regulators issue cease-and-desist orders to banks believed to be engaged in unsafe or unsound practices. An FDIC spokesman describes the orders as "not uncommon," though the agency issued only eight in November, the latest month for which data are available. None of those institutions have received TARP funds. The FDIC counted 8,571 member institutions as of Sept. 30, 2007.
The decision to direct taxpayer funds to a bank that recently faced official questions about its safety and soundness adds to questions about how TARP recipients are being chosen. Treasury said in its response to a congressional oversight panel that the program "is designed for healthy banks."
Under the TARP capital plan, banks seeking funds may apply with their main federal regulator, which vets the application and, where appropriate, passes it along to the Treasury.
But Treasury has hardly been transparent.
"How they decide who gets the money and who doesn't is a mystery to me," said Hal Reichwald, a partner at law firm Manatt Phelps & Phillips in Los Angeles. "Qualitative judgments about financial institutions are being made at the Treasury, but we have no idea what the standards are."
This past fall, for instance, the government told Cleveland-based National City that it wouldn't receive support via the TARP - even though National City looked just as healthy, going by its capital ratios and other metrics, as several peers that received government funds.
The decision, which led to National City's sale in October to Pittsburgh-based PNC, has had observers wondering whether the agency is quietly pursuing a plan to consolidate the industry into the hands of institutions it considers strong - without sharing how it arrives at that assessment.
The OneUnited bailout particularly irks one persistent critic of that bank's lending practices.
"Whatever happened to helping the safe-and-sound banks?" asks Ken Thomas, an independent banking consultant in Miami and an author of a book on the Community Reinvestment Act, the 1977 law that encourages banks to lend in lower-income areas. Thomas notes that OneUnited has twice gotten the lowest rating on the FDIC's evaluation of its Community Reinvestment Act obligations in its Florida market, though its overall CRA rating has been satisfactory.
"This [enforcement] action makes serious charges about the oversight" of the bank's management and board, Thomas added. "Yet they're getting taxpayer money?"
Not everyone is surprised by the news that a bank that recently faced a cease-and-desist order is getting TARP funds, however. William Galston, a senior fellow in governance studies at the Brookings Institution in Washington, said some question marks are inevitable, given the massive effort being made to stabilize and recapitalize the banking system.
"We need to be realistic here," said Galston. "Mistakes are going to be made when you are undertaking a program of this size in the middle of a crisis. I don't take incidents like this very seriously."
The bigger issue is that by lavishing taxpayer funds on banks with few strings attached, Congress and the administration "are asking for a lot from the people at a time when they don't trust the government," Galston added. "Now we're paying the price in terms of public perception."
-- Additional reporting by David Goldman