Severance packages at risk
For companies in dire straits, severance could be next on the chopping block.
Map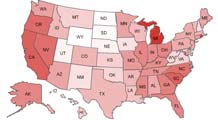 NEW YORK (CNNMoney.com) -- When it takes nearly half a year to find a new job, a severance package from your previous employer can be a lifesaver. But what if that safety net was gone?
Over 3 million jobs have been lost in the last 6 months, and job searches are lasting five months on average, according to the Department of Labor.
Despite the economic downturn, severance packages have remained mostly intact - up until now.
Now many companies say they will take a closer look at their severance packages in response to ongoing economic conditions, according to a recent study by consulting firm Hewitt Associates.
According to the survey, 20% of companies plan to make changes to their severance plans and 31% said they were unsure. Of those making changes, 43% plan to reduce cash payments, and 21% plan to reduce benefits like health insurance, retirement benefits, disability, financial assistance or life insurance to laid off workers.
"Amidst employers' cost-cutting efforts, employee severance programs have largely been untouched, in part because these benefits are viewed as a way to maintain the goodwill of affected employees," Lori Wisper, senior compensation consultant at Hewitt Associates said in a statement. "Organizations now have to dig even deeper into their cost drivers - forcing many employers to take a closer look at the cost and competitiveness of their severance programs."
Even though most large companies offer severance to laid off workers, it is not required by law. Severance is given at the discretion of each individual company and on may depend on that company's state of health. Packages are sometimes negotiable. It might be possible to get a few weeks, or even a few months, pay added to the offering before an employee signs off on it.
While there is no set formula, many companies offer two weeks pay plus one week or two weeks for every year of service, while other companies vary their payouts based on such factors like years of service, salary level and grade.
In addition to any voluntary cash payments, employers are required by the Consolidated Omnibus Budget Reconstruction Act, or COBRA, to allow the employee to continue receiving health care under the group plan for up to 18 months. But the premiums are typically no longer subsidized by the employer and the employee often must pay out-of-pocket. "Many companies also offer to pick up a portion of the employees' COBRA payments as part of a severance deal," according to labor attorney Michael Puma of Morgan, Lewis & Bockius LLP.
But as the recession worsens, companies may get less generous when it comes to easing workers' transitions out the door.
Ravin Jesuthasan, a managing principal at Towers Perrin says some large companies have already eliminated the base two-week portion of their severance package and now pay just a week for every year of service. If the recession worsens going forward, more companies might follow suit, he warned. "It's going to be extremely painful for workers."
When Theodosia Hall, 41, was laid off from a non-profit in Philadelphia in December she learned that her severance package had been cut entirely.
"I was utterly surprised because I had been through layoffs and I'd never seen anything like that in my life before," she said.
Hall says she was lucky to get another job right away but many of her coworkers are still struggling to stay afloat.
"It leaves a very sour taste," she said.
For that reason, cutting severance is an extreme action by companies in serious trouble, say the experts.
"There is a strong correlation between how a company treats departing employees and its ability to attract and retain top talent now and in the future, particularly when the economy rebounds," said Barbara Barra, executive vice president for Lee Hecht Harrison, a career consulting company. "Any company that sees itself in business two years from now is not going to cut back on its severance."
Even in a recession, it's often worth the while for firms to maintain their severance packages, as they can help stave off costly lawsuits, or damage to a company's reputation and long-term bottom line.
"It often makes good business sense to provide employees with such pay in exchange for an employee's waiver and release of all employment-related claims against the company because the typical severance payment pales in comparison to the costs associated with defending an employment lawsuit," Puma said.
So unless a business faces bankruptcy or ruin, employees should not worry that their safety net will suddenly fall through, experts say.
Scaling back severance is the last resort, Jesuthasan says. "It's bad enough that you have to terminate these folks."
Have you found a job recently? We want to hear from you. Send us an email and attach a photo. Tell us where you got hired and how you landed the job and you could be profiled in an upcoming story on CNNMoney.com.

Features

These Fortune 100 employers have at least 350 openings each. What are they looking for in a new hire? More

It would be the world's second-biggest economy. See how big companies' sales stack up against GDP over the past decade. More