KeyCorp's Beth E. Mooney joins this year as the first-ever female chief of a top 20 U.S. bank. Still, just 12 FORTUNE 500 companies now are run by women, down from 15 last year.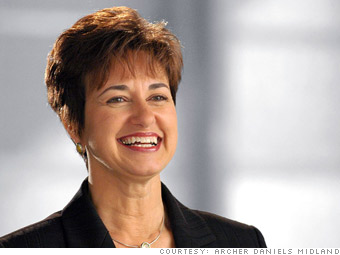 Title: Chairman, CEO and President
Company: Archer Daniels Midland
Age: 58
Compensation: $11.4 million
Patricia Woertz rose to prominence through the ranks of oil giant Chevron, but she moved on to greener pastures as CEO of agriculture conglomerate Archer Daniels Midland.
Since taking the helm in 2006, Woertz has made a push toward green fuels. ADM is an ethanol powerhouse, in addition to being the world's leading grain processor. After working for Big Oil for three decades, Woertz jumped right into the heated national debate over ethanol and the big bet on biofuels.
Woertz led ADM -- with its 29,000 employees in 60 countries -- toward escalating financial heights during her tenure. Last year its oilseeds business, which processes livestock feed from products like soybeans, produced a record $1.4 billion profit alone. And investors have been sowing returns: In 2010 net earnings were $1.9 billion, or $3 per share, 15% higher than in 2009.
NEXT: Angela F. Braly
Last updated May 05 2011: 3:07 PM ET