Detroit entrepreneurs band together
Local business owners are teaming up to draw shoppers and rebuild Detroit, one business at a time.
Photos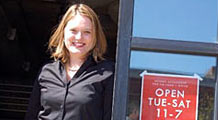 Map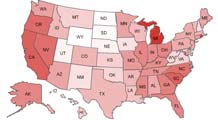 DETROIT (CNNMoney.com) -- After David Mancini opened Supino Pizzeria eight months ago in downtown Detroit, he quickly came to appreciate a powerful source of word-of-mouth marketing: his fellow business owners. Even those who are potential rivals.
The owners of nearby Russell Street Deli, who sold the pizzeria space to Mancini last year, give Supino menus to their customers and allowed Mancini to test dough recipes in the pizza kitchen before he decided to go into business. Jerry Belanger, a partner with Park Bar in Detroit, has bought rounds of pizza for his patrons and frequently promotes Supino's to the bar crowd.
As a newbie entrepreneur trying to make it in Detroit's struggling economy, Mancini finds the help essential.
"I don't know where I'd be without it," said Mancini, who has hired seven part-time employees. "We've done pretty well considering the economy is the way it is. I'm doing a lot better than I thought I'd ever be doing at this point."
Mancini is part of a community of Detroit entrepreneurs banding together to help each other weather the struggles of running a business through a deep recession. Such cooperation isn't exclusive to Detroit, but local entrepreneurs say having a support system is especially crucial in an economy that is plagued by the troubles of the Big Three automakers.
"We really want each other to succeed, because we know the whole situation with the cars has been a little bit devastating," said Liz Blondy, president of Canine To Five, a dog daycare, boarding and grooming facility in Detroit's midtown.
Blondy is a co-founder of Open City, a small business networking group that gathers monthly. Around 100 people attended the April meeting, at which longtime business owners offered advice on how new companies can navigate Detroit's economy and achieve similar longevity. Among their tips: Keep your overhead low. Detroit's rock-bottom real estate prices help with that -- commercial space is inexpensive and homes can be had for less than $1,000.
"There is no place to open a business where your fixed expenses will be lower than Detroit," said Dave Muer, owner of Blue Pointe Restaurant.
Launching in Detroit
Muer's advice was a welcome tip for Open City attendee Torya Blanchard, the owner of Good Girls Go To Paris Crepes. Blanchard opened her creperie's first location nine months ago, where she now employs four part-time workers. She's planning to soon open a second Detroit outlet and a third in nearby suburb Grosse Pointe Park.
"When you get advice and insight from people who have done business in the city for 10 or 20 years, they can tell you from experience how they got through the rough spots and how to change with the times," Blanchard said.
Open City's co-founder believes Detroit's challenges make the small business community here particularly cohesive.
"Not a day goes by that I don't talk to another small-business owner in Detroit to say, 'Hey, how's it going,' or 'How's business? Is there anything that I can do to help you?'" said Blondy, whose company has 12 employees and had sales of $290,000 last year.
Belanger, who helped Mancini in Supino's infancy, has made it a personal mission to assist new entrepreneurs in town. Most recently, he helped create Detroit Cheers, a local currency circulating among Detroit businesses. Detroit Cheers trade at par with U.S. dollars and are backed up by money in a bank account. The bills, which come in $3 denominations, can be redeemed for cash if turned in to Belanger or his two partners in the currency: Tim Tharp, owner of Grand Trunk Pub, and John Linardos, owner of Motor City Brewing Works.
There are 4,500 Cheers in print, but Belanger said he and his partners are leaking the currency out slowly to keep interest up in the program. Belanger gives the bills out for free to Park Bar customers who promise to use the money at about 20 Detroit businesses that accept the currency.
"It provides new or struggling businesses with revenue they need, and exposes their products to a new customer base," Belanger said. "The point of the program is primarily awareness, togetherness and community. It is more of a social statement than anything."
Lending a hand
For some entrepreneurs, building the local business community means referring customers to potential competitors.
Slow's Bar BQ in Detroit has become a hotspot for regulars craving baby-back ribs or Texas-style beef brisket. The restaurant is so popular that diners wait as long as two hours for a table on a Saturday night.
While Slow's has a bar, co-owner Phil Cooley often refers people to nearby LJ's Lounge, where they can grab drinks until their table is ready. On some busy nights, he points hungry customers to El Barzón instead, a Mexican and Italian restaurant where Cooley frequently dines.
"We want businesses as competition, because in our minds it's about getting more people down here visiting and having a nice time," said Cooley, who expects sales of $3 million for Slow's this year.
Sharing customers is especially helpful in a city that has more than 900,000 residents but few national retail and restaurant chains. "We're so underserved in so many ways, but especially commercially," Cooley said. "So there's plenty of market to share."
When Claire Nelson's home accessories store Bureau of Urban Living doesn't have what a customer is after, she'll often pick up the phone and call Mezzanine or Design 99, two other design stores in town. Nelson, who created Open City with Blondy, says she'd rather steer a buyer toward another independent retailer than lose them to a chain store like Target.
Peer support can be a powerful motivator for new members of Detroit's business community, especially as the city struggles to gain an economic foothold.
"There has to be something that makes people live here, because you have to endure in this town," said Belanger of Park Bar, which opened in 2004. "You have to endure the economy, you have to endure blight. But there's something about Detroit that makes people say it's worth the struggle."
Cooley thinks that "something" is directly related to the struggle. Detroit's turmoil bonds together the entrepreneurs who choose to build their companies there.
"It's exciting to watch people to work together out of necessity to make things work," he said.

To write a note to the editor about this article,
click here
.