Ireland's new troubles
Dark clouds have descended upon Eire, which has been hit by a housing bubble and the global slowdown. Can the country once again become the go-to place for foreign investors?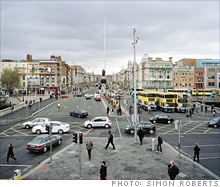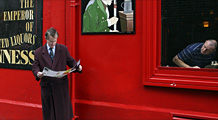 A Fortune writer tours the land of his ancestors for clues to the country's sudden fall from charmed to challenged.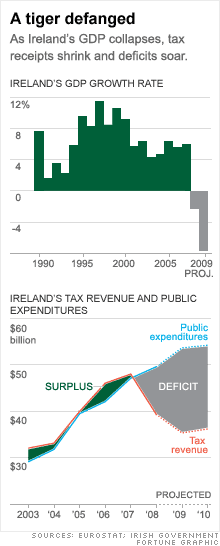 (Fortune Magazine) -- Lounging amid the bruised plastic furniture and polyester carpeting at his dilapidated offices at Dublin Airport, Michael O'Leary, CEO of Ryanair, is ebullient about his low-cost carrier's prospects: "We'll mop the floor with every airline in Europe!"
He's also, on this chilly spring evening, a blarney-filled promoter of his airline's flashy image, pointing to the bikini-clad beauties in his Girls of Ryanair calendar and boasting that they "really do work here!"
But O'Leary, like many other Irish business leaders, is optimistic about his own business yet worried about the future of the Celtic miracle that created the likes of Ryanair and sprinkled Eire's ancestral pastures with biotech plants and software labs.
That's because the global economic tempest has washed over Ireland, and its economy is suffering the deepest plunge of virtually any country outside of Iceland. (See "Iceland: The Country That Became a Hedge Fund") It has been hit by a sudden, shocking reversal of fortune that even a Gaelic weaver of tales would find difficult to invent. The economy of the European Union's fastest-growing major member country since the euro made its debut 10 years ago has ground to a halt. The Irish government predicts that GDP will tumble 7.7% this year, after sliding 2.2% in 2008. Unemployment is forecast to hit 15% next year, quadrupling the figure in 2007.
So far, the government's response is to borrow its way out of trouble. Public spending jumped an astronomical 63% from 2003 to 2008. Now a weak economy is decimating tax receipts, leaving the government this year with a projected 11% budget deficit, the worst fiscal shortfall in Western Europe.
The risk is that Ireland will lose control of its destiny. Some believe that if the government doesn't soon begin to cut costs, it may not be able to borrow enough to meet its needs and then will have to be rescued by its European neighbors. This could destroy Ireland's allure for foreign investors such as Intel (INTC, Fortune 500), HP (HPQ, Fortune 500), Microsoft (MSFT, Fortune 500), and Pfizer (PFE, Fortune 500) that helped make it a shooting star for almost two decades.
"An international bailout will wreck our competitiveness," says the blue-jean-clad O'Leary, sipping vending machine espresso bought with a euro bummed from a flight attendant. "For a company the only reliable way to restore profits is to lower costs. The government needs to get off its backside and radically cut spending."
As its troubles mount, Ireland also stands in danger of losing a rare gift: its image as a beacon for talent - and as the EU's leading land of opportunity. Chefs from France, construction workers from Poland, and accountants from the Czech Republic are heading home. In 2007, 67,000 more people arrived than departed. This year 30,000 more workers are expected to leave than arrive, reversing 14 years of strong immigration and raising fears that the curse of the '70s and '80s - the steady exodus of the best workers - is again exerting its grip.
Ireland's main problem, however, isn't its fundamental economy, which still packs vast potential for exports and could rebound strongly as global growth resumes. The challenge is to rein in a soaring budget deficit, a legacy of years of profligate spending that was fueled by a tax windfall from the biggest real estate bubble in Europe. When that bubble collapsed early last year, so did the revenue the government swore would last forever.
Now the nation's leaders are busily raising taxes to close the chasm, while maintaining high levels of spending. Prime Minister Brian Cowen's centrist administration promises to tame its bloated budget in future years. However, if the tax increases don't reap substantial extra revenue or if the government retreats on its pledge to reduce expenditures (both are possible), Ireland will face a dilemma: either raise taxes to ruinous levels or accept an EU bailout that would force the country to engage in fiscal discipline. Either way, Ireland would have to surrender the low-tax advantages that have drawn foreign investors and made Ireland the Tiger of Europe. Excessive tax increases would also exacerbate the brain drain, as the skilled workers who flocked here from the world's best labs and universities depart for rival countries.
To be sure, a prosperous outcome, a thriving "Celtic Tiger, the Sequel," is also possible, and some early signs suggest that Ireland may be getting back on track. The miserable economy is giving the country the shock it needs to restore its competitiveness as exporters slash wages, and the once-exorbitant cost of everything from houses to labor plunges. Even the naysaying O'Leary predicts that if the government embraces something resembling austerity, "We'll go down harder and deeper than other countries and rise up faster and better."
***
How did Ireland get into this mess? The short answer is that the advantage that gave Ireland its roar - its tremendous strength as an exporter - has waned. After growing 15% a year in the late 1990s and early 2000s, exports rose just 6% annually during the past six years. This year they'll decline - not surprising, given the worldwide recession.
Over this period the composition of Ireland's exports changed dramatically. In the 1990s, Ireland starred as a low-cost manufacturer, turning out electrical equipment, auto components, and plastic moldings. It also gained a foothold in pharmaceuticals - half a dozen of the world's bestselling drugs are made in Ireland, including Viagra and Lipitor by Pfizer and Botox by Allergan.
But Ireland lost routine manufacturing businesses and jobs at a rapid rate to low-cost competitors, especially China and Eastern Europe. Apple (AAPL, Fortune 500) moved its production of circuit boards to Indonesia and of laptops to Taiwan, and Dell (DELL, Fortune 500) is moving its computer-manufacturing operations to Poland from Limerick.
Why the exodus? From 2003 to 2006, Ireland's costs vs. those of the U.S., Britain, and other trading partners outside the eurozone increased by 30%. A rise in the value of the euro against sterling and the dollar accounted for two-thirds of that increase. But Ireland's exports also lost ground to products from its European neighbors because its wages, rents, and energy prices rose far faster than those in Germany, France, or Britain. A main reason was the fierce competition for workers caused by the government's hiring binge and the rapid growth in domestic-service industries, such as banking and advertising, that have been stoked by the overheated economy.
"We had to bid for people who could become teachers and health-care workers with the best pensions in Europe and total job security," says William Slattery, chief of U.S.-owned bank State Street in Ireland.
In place of exports, a new force kept the economy growing and masked the sharp decline in Ireland's competitiveness: an epic building boom that dwarfed even those in the U.S. and the rest of Europe. The construction bubble had two main sources. First, homebuyers gorged on cheap money. Although Ireland's inflation far exceeded that of its European neighbors from 2003 to 2008, its mortgage rates remained extremely low, at 4% to 5%. That's because the European Central Bank sets a blanket rate for lending to banks for all its 16 members. Hence, Ireland could borrow at the same cost as Germany or the Netherlands, even as its prices increased far faster - while the building explosion itself fed more price increases.
"If we'd had an independent monetary policy, interest rates would have been higher, dampening the building boom," says John Hurley, the governor of the Central Bank of Ireland, who emphasizes that the nation gains far more from being part of the powerful euro trading block than it loses in monetary flexibility.