Green Mountain Coffee's hot stock won't cool down
High sales growth, rising profits, new deals - investors love the company, but when will the buzz wear off?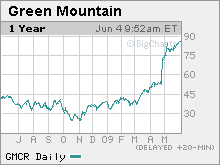 NEW YORK (Fortune) -- Is the daily indulgence of Starbucks and McDonald's coffee replaceable? High-flying shares of Green Mountain Coffee Roasters seem to indicate so.
The maker of Keurig single-cup coffee brewers appears to be recession-defiant. Its stock has gained 120% this year after holiday sales of its brewers more than doubled, in turn increasing sales of its single coffee serving K-Cups. Green Mountain also supplies McDonald's (MCD, Fortune 500) with coffee, and it scored a major retail deal in April when Wal-Mart (WMT, Fortune 500) said it would sell the company's $100 brewers and coffee at 3,000 stores.
But Green Mountain (GMCR), which owns Keurig and produces its own branded coffee, has performed so well (the S&P 500 (SPX) has gained 4.4% in the same time) that analysts are split on whether the growth stock can continue its rise. Shares now trade at 54 times analysts' earnings estimates and reached an all-time high of $87.40 last week before a three-for-two stock split.
A familiar business model
Analysts say Waterbury, Vt.-based Green Mountain follows a printer-and-ink sales model: It sells single-cup Keurig brewers cheaply (around cost, depending on the model) so it can make its real money resupplying its pods of coffee called K-Cups.
"What we really are focused on internally ... is K-Cup demand," CEO Lawrence Blanford said in a recent conference call. "As the install base of brewers continues to grow, we can certainly predict ... the K-Cup demand far better than we can brewer growth rate." That demand has led to 57% annualized sales growth over three years.
Profits are generated by sales of K-Cups. Green Mountain produces its own branded coffee and earns royalties from selling brands including Celestial Seasonings tea, Newman's Own, and Caribou Coffee. In the last quarter it shipped 432 million K-Cups, while licenses paid a royalty of 6.4 cents for each pod. The company doesn't break out earnings from K-Cups, but Canaccord Adams managing director Scott Van Winkle estimates 85% of its $193 million in quarterly sales come from the single-cup market.
According to Canaccord Adams, 20 million coffee brewers are sold each year in the U.S., each with an average lifespan of four years. Ninety million households own a brewer. Keurig now has 3%-4% of the home brewer market, according to estimates. If single-brew machines keep growing in popularity, Van Winkle thinks that Keurig's market share could rise to between 10% and 15%.
"In the case of coffee brewers, there isn't a rapid pace of innovation," says Van Winkle. "We went from the percolator, to drip, to grind and brew. Now it's single cup."
By his back-of-the-envelope estimate, if the Keurig brewer reaches 10% of homes and the average customer drinks slightly more than 1.5 cups a day, he says "the math gets you to $7 per share of earnings.'' Trading at a more reasonable 20-30 times earnings, that's up to $210 a share.
Coming down off the high
Investors could face a bumpy road before that happens. Sales of its brewers in corporate offices are slowing because of the recession, and the ratio of K-Cups sold per brewer is declining. Van Winkle estimates non-home brewers account for 15% of brewers sold, but they generate up to 15 times as many K-Cups sales as do home brewers.
Alton Stump of Longbow Research, who downgraded the stock to "neutral" earlier this month, says investors need to wait for shares to cool down before buying. "[W]ith the share price up [two times] since the first of the year and nearly [four times] since November 2008, we cannot justify recommending new money into the shares at current levels," he wrote in a May note to investors.
Stump does say that increased brewer sales in the past two quarters is a positive sign of growth in the face of weak consumer spending
Analyst Bill Chappell of SunTrust Robinson Humphrey writes, "We continue to believe that GMCR is at the early stages of its unique growth story but will look (hope) for a pullback before" recommending shares.
The next question for Green Mountain is what happens when its patents expire in the next decade and if new competition heats up, says Van Winkle. "Does Kraft make K-cups for Keurig brewers? Could there be new competition?"