Glimmers of hope in America's RV capital
Devastated by the recession, Elkhart, Indiana tries to stage a comeback.
Photos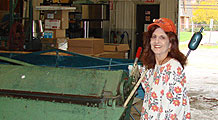 ELKHART COUNTY, Ind. (Fortune) -- A year ago, Ed Neufeldt worked happily as a swingman at one of the plants that made this northeastern Indiana county America's RV Capital. Last fall, however, the plant closed, and Neufeldt, 62, became one of its casualties. Now, he is on a crew of volunteer ex-plant workers building a local homeless shelter's new wing. Recently, he landed a part-time bread delivery job -- the 6 a.m. to 10 a.m. shift a couple days a week. His first check? $120. "It's not much," Neufeldt conceded on a recent afternoon, adding, "It feels good, just to get paid to work."
In many ways, Neufeldt reflects the oddly cautious optimism here. For years, Elkhart County's economy boomed with plants that produced nearly 60% of the nation's RVs. But the gravest economic crisis in generations has battered Elkhart's core RV industry: Only 237,000 new vehicles were delivered last year at $8.8 billion in sales, down sharply from a peak of 390,000 vehicles and $14.7 billion in sales in 2006, according to the RV Industry Association.
Elkhart -- population barely 200,000 -- is a symbol of how the economic crisis is playing out in Middle America. The county's unemployment rate soared to 17.8% in April, among the highest in the nation, and certainly the worst in Indiana. Food banks are enduring unprecedented demand. And across the landscape of suburban-style cul-de-sacs, shopping malls, and cornfields, the already meager tax base is eroding.
And yet, there is reason to be hopeful. Just last week, Navistar -- one of the world's largest purveyors of heavy-duty trucks, buses, and diesel engines -- announced it had purchased a $47 million RV business that includes a recently shuttered plant here. And in May, Indiana officials hailed the announcement that California-based Electric Motors would build fuel-efficient auto parts at an Elkhart plant, a move expected to create at least 1,600 jobs. "There's a huge workforce here that's available, and they have the facilities we need," says Electric Motors CEO Wil Cashen.
For many in Elkhart, these efforts are strong indicators that a recovery is underway. Perhaps nowhere is that feeling stronger than at Keystone RV, which had been particularly hard hit by the recession. Ron Fenech, the company's CEO, pinpoints the start of its crisis to last October. The month already marked the start of the RV industry's traditional seasonal lull. But the downturn was compounded by the broader uncertainty about the economy, which prompted many consumers to cut back on spending, and the deepening credit crisis crippled many banks' ability to authorize loans to the handful of prospective RV buyers.
Yet, today, Fenech is encouraged. True, Keystone's sales have plunged roughly 30% in the last year. And the company cut its workforce by roughly one-third -- to 2,100 -- and closed 3 of its 11 plants here in the last year or so. But Keystone's order backlog is 50% larger than a year ago. And Fenech expects to build about 30,000 new RVs this year. That's still about 40% less than last year, but given industry projections that shipments of new RVs will increase from 136,500 this year to 169,500 in 2010, Fenech is preparing: Just this week, he bought a new RV plant. "Any uptick in the market is going to force us to expand," he says.
Much of Keystone's growth will likely be driven by entry-level RVs, like the Passport. Typically priced between $16,000 and $22,000, it is lighter than many old-school RVs, and easily towed by small sport-utility vehicles, making it potentially appealing to young families.
But in the meantime, much is at stake in Elkhart. Many stores and restaurants are barely surviving. Elkhart was once a magnet for jobseekers from across the region, but no more -- at least not now.
Last Thursday, Neufeldt finished stuffing the last bits of insulation into the new walls of the homeless shelter where he still volunteers. He paused, considering it all.
"We're just holding onto hope," he says.