LKQ: Top of the heap in auto salvage
A company that recycles auto parts (don't call it a chop shop) struggles to stay in the fast lane.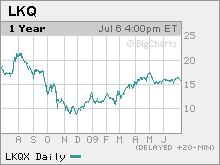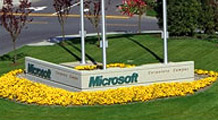 After a bleak 2008, equities are looking up. But whatever the market, our trademark long-term portfolio can help you build a nest egg for a secure future.
NEW YORK (Fortune) -- The idea of making money from used auto parts conjures up images of thugs in chop shops tearing apart fancy stolen cars. But auto salvage is a perfectly respectable business, and Chicago-based LKQ has turned scavenging into a science. Since 1998 a group of former Waste Management executives have been revolutionizing a mom-and-pop industry by rolling up dozens of scrap yards that turn junkers into usable parts, and convincing insurance companies and body shops that recycled parts are just as good as ones straight from the manufacturer. After the company went public in 2003 the stock returned better than 500% through its peak early last year, landing LKQ (the name stands for Like Kind and Quality) at No. 58 on our 2008 Fastest-Growing Companies list. "Basically, they've got thousands of acres with a bunch of cars lying around," says analyst John R. Henderson of Morgan Keegan. "But there's a lot of money in ripping them apart."
LKQ (LKQX) hit the skids last year. As commodity prices tumbled in the second half, the company was getting dramatically less for the material sold to scrap-metal dealers. Earnings fell about 40% in the fourth quarter. The company also suffered from a little-known side effect of recessions: falling insurance claims. People were driving less (3.4% fewer miles in 2008, according to the Federal Highway Administration), and many cash-strapped drivers chose to go without repairs rather than pay the deductible. Auto claims were down about 4.5% industrywide last year. Overall, LKQ's growth (not counting acquisitions) slowed to just 0.7% in the fourth quarter. Its share price tumbled 60% from its peak, to under $10.
Yet analysts have not given up on the company, and many believe it's a bargain. Nine rate it a buy, against five holds. At its core, harvesting scrapped cars is still a very profitable business. With a national feed of daily pricing information, LKQ's buyers know exactly how much to pay for a vehicle (the company bought nearly 150,000 of them last year). And with a broad customer base, they're assured of selling whatever parts they can find. That's not the case for a local or regional operation, which isn't as sure of its supply of wrecks or demand for parts. Typically, a junker LKQ buys for $1,700 yields at least $3,600 in revenue, according to Henderson.
Over time a recessionary environment may actually be good for LKQ. Insurance companies are cutting premiums, and have had huge losses in their investment portfolios. They're looking to save money, and one way is to put more pressure on the body shops they work with to use cheaper recycled and generic parts. In the past a big worry that insurance companies had about such parts was the reliability of supply. Typically, scrap yards and generic suppliers could offer only about 45% of the parts insurers ordered. But LKQ, with a national footprint, plus its 2007 acquisition of generic-parts importer Keystone, fills 65% of orders, according to analyst Nate Brochmann at William Blair.
The losers in the equation - the so-called original-equipment manufacturers (OEMs) such as Ford (F, Fortune 500), GM (GMGMQ), Chrysler, and their top suppliers - are also not quite the intimidating presence they used to be. Ford recently settled a lawsuit against LKQ for violating patents by using generic parts. And worries that the OEMs won't be able to provide a steady supply of parts (more than 70% of the top suppliers are in bankruptcy) are also believed to be driving more people toward generics and recycleds.
In general the Big Three's loss is LKQ's gain. A recent study by auto-trends analyst R.L. Polk found that two-thirds of drivers were planning to put off new-car purchases longer than in the past. No less an authority than Carlos Ghosn, CEO of Nissan and Renault, believes volumes won't return to 2007 levels until 2014. Not only do older cars need more maintenance over the long haul, but OEMs eventually stop making new parts for those cars. So body shops use more generics and recycled parts to repair them.
The biggest risk to LKQ shares is their exposure to commodity prices. Many hedge funds, analysts believe, like to trade LKQ as a way to play scrap-metal price moves. A recent share price run-up - 42% in the past six months - coincided with stabilizing commodity prices.
The recession has not slowed LKQ's expansion. Recent acquisitions include pick-your-parts lots where retail customers can salvage their own scrap, and commercial vehicle parts scrap and recycling yards. "Body shops are still telling me to watch out for LKQ," says Brochmann. "Because soon they might be the only game in town."