A six-month tech stock gut check
Tech shares are leading the charge, but look out - some of them have run a little too far ahead of the pack.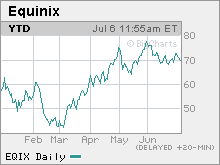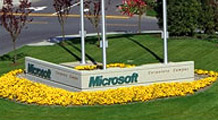 After a bleak 2008, equities are looking up. But whatever the market, our trademark long-term portfolio can help you build a nest egg for a secure future.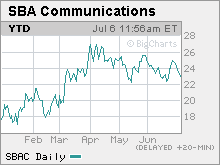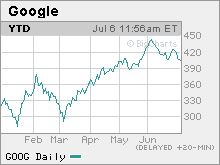 SAN FRANCISCO (Fortune) -- Half this miserable economic year is gone. That's the good news; we've got less of 2009 to go.
The rest of the economic news? It depends on what you choose to focus on. Unemployment continues to hammer the nation's workforce -- at 9.5% it's at a level not seen since the early 1980s. Meanwhile, untold numbers of businesses hang precariously onto solvency. And yet there are signs here and there, like weak smoke signals, that while not on an upward swing, the economy is not getting worse.
One such sign is the stock market, a leading indicator of economic recovery (if history is to be trusted). The markets have been on a roll in recent months, and leading the charge are shares of technology companies.
For example, Amazon (AMZN, Fortune 500) up 55% since the beginning of the year. Research In Motion (RIMM), the maker of Blackberry smartphones, is up a stunning 72% in the last six months. Of course the other heavyweight in the smartphone world Apple (AAPL, Fortune 500) is up 64% for the year. Google (GOOG, Fortune 500), IBM (IBM, Fortune 500), Qualcomm (QCOM, Fortune 500) are all up significantly so far this year. And it's not just name brand tech companies that are riding rockets upward. Take HR software-as-a-service vendor Ultimate Software (ULTI), its shares are up 60% in the first half of the year.
Technology stocks in general are supposed to offer growth, and you would assume shares in those companies might bounce back faster than other sectors. Fair enough, but it's hard to reconcile the Nasdaq (COMPQ), which is up about 14% for the year, with the S&P 500 (SPX), which is just below positive territory and the Dow (INDU), which is down 6% in the same period.
There are tech stocks that have clearly run too far too fast. From a valuation perspective it's hard to justify buying in on RIMM after its tremendous bounce, or Amazon for that matter, especially when those unemployment numbers keep coming. Who's got the money to buy new Blackberries or the collection of electronics/books/and whatever else Amazon sells these days? Are they great companies? Yes. Great values as a stock? Hard to argue that point.
So where do you look for investment opportunities? I checked in with Michael Lippert, who spends every waking moment analyzing tech stocks as portfolio manager of the Baron iOpportunity Fund, a $130 million New York-based mutual fund, to see what he is championing these days.
Lippert agrees that some share prices in tech companies have gotten ahead of themselves. "What has helped the market is that you had so much fear in the system at the end of last year, and the beginning of this year," Lippert says. "There was fear of this unbelievable chaos, a breakdown of the system, the potential of a depression. Once that fear was removed from the system, stocks started to do well. You went from pricing in a depression to pricing in a recession, and now pricing in a recovery, though the jury is still out on what the recovery is going to be. I have been a little bit surprised that we have held onto all these gains."
Lippert advises against trying to forecast economic recovery. Instead, focus on individual companies. "I am still trying to find those sectors and those companies that I believe will have what I call secular tailwinds, regardless of what the economy is going to do in the next six months to a year, which, by the way, there is no way I can call."
Here are three tech stocks that Lippert thinks have the wind at their back:
Equinex (EQIX) has had a 34 % run already thus year, but the data center company is in a business that keeps cranking as more and more companies rely on strings of servers to run their businesses.
"Even with the move in this company this year I would buy in," Lippert says. "It was down so much last year, and we still get comfortable with valuations over $100. I think the company should be valued there now. It will take a while for the Street to get there, but on the cash flow that this business is going to generate, it's worth at least that. We continue to have a big position there."
SBA Communications (SBAC) SBA puts up and operates wireless communications towers. All that fuss over the iPhone and the Palm Pre? It doesn't work without a good network backing it up.
"The stock is up almost 50% on the year, but we still think is undervalued given the cash-flow the business is going to generate," Lippert says. "They have also done an incredible job dealing with the debt maturities on their balance sheet. If you look at the smartphone market there is huge and growing demand for wireless bandwidth, these guys have several years worth of demand for the towers they operate already backlogged."
Google (GOOG, Fortune 500) You know what Google does. Lippert is betting that the shift toward online and performance-based advertising continues with Google lead the charge.
"We continue to own a medium-sized Google position," Lippert says. "I don't think Microsoft's (new search engine) Bing is a threat, or anything that Yahoo is doing is a threat to it. You are going to see a rebound in the core search advertising business when the rebound in the economy occurs."
While the shares aren't a bargain, they are "solid" Lippert says at this price, especially when some of the initiatives Google has underway aren't reflected in share price. "The Street doesn't offer any value to YouTube, to Google's applications businesses, or what they are doing in mobile and netbooks with Android," Lippert says. "I think you have a number of free options in the stock, and if any of those things become big businesses for Google you could have a far higher stock price."