Luxe sample sales move online
Members-only shopping site Gilt Groupe gets VC funding, sparking questions about its next move.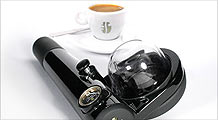 Unplug your adventures with off-the-grid gadgets.
NEW YORK (Fortune) -- Online retailer Gilt Groupe's recent infusion of funding has wags from Wall Street to Seventh Avenue speculating about what the luxury site plans to do with the money.
Gilt has raised $40 million, a tech industry website reported last week. The site, Silicon Alley Insider, also said the investment gives Gilt a valuation of close to $400 million.
(Gilt declined to comment, but it's worth noting that Silicon Alley Insider happens to share office space with Gilt. Both companies are part of Alley Corp., the New York-based Internet incubator founded by DoubleClick executive Kevin Ryan.)
Inspired by the private sale model of France's Vente-Privee, Gilt works like this: The members-only site announces upcoming sales from individual labels via email. The selling starts at noon, with apparel for men, women and children, along with jewelry and home furnishings, offered at up to 70% off. Sales last for 36 hours, but many items sell out right away since merchandise is limited to a designer's excess inventory.
These "sample sales" have been taking place in warehouses of fashion-forward cities for years. By bringing them online, Gilt garners an audience unrestricted by geography. They also transform the experience from one of waiting in line to elbow the woman beside you for that Tori Burch blouse, to simply typing and clicking your way to new Manolos.
"There's something fun and exciting about shopping on Gilt," explains Milton Pedraza, CEO of the Luxury Institute. "Customers say 'I love to go in and see what I can get.'"
Gilt's model is also tailor-made for times like these. There's plenty of excess inventory from luxury designers and Gilt's customers are mostly high-earners with disposable income.
Founded in late 2007, the ecommerce site reportedly did $25 million in sales its first year. It's projecting $150 million this year, jumping to $500 million in 2010, according to Silicon Alley Insider.
Gilt got another major boost last September when Susan Lyne, the former head of Martha Stewart Living Omnimedia, joined as CEO.
Lyne must now figure out how -- and where -- to grow. Gilt operates only in the U.S. and Japan, so the new funds it reportedly has raised could help the site launch in promising markets like Europe and Latin America.
A greater source of speculation is Gilt's possible entrance into categories like high-end travel and premium experiences.
Lyne sees tremendous opportunity in expanding Gilt's model into new channels where excess inventory exists. "You can use this platform for any white-label sale," she told Fortune's Jessi Hempel back in December. "Imagine the possibilities. High-end appliances. Cars."
But the Luxury Institute's Pedraza warns against the company branching out too much. "Look at Giorgio Armani doing candy. He's clearly outsourcing that. You've got to be good at every category you participate in."
Gilt also has competition in this flourishing ecommerce sector: hautelook.com, ideeli.com, Editor's Closet, and RueLaLa are all vying for the same customers as Gilt -- and the same inventory.
Similarly, the company may encounter inventory challenges if it attempts to move into new categories or even expand in its core categories of designer clothing and accessories. Its business model is built on scarcity and exclusivity, which seem natural barriers to growth. And when the economy rebounds, some question whether supplies of designer goods will still be as accessible as they are when their products aren't selling as well. (Another challenge for Gilt: a stronger economy means consumers may be less likely to bargain shop online.)
One way to respond to these inventory challenges could be for luxury brands to design exclusive lines for Gilt, in the same way some retailers develop products specifically for other retail outlets. This helps ensure the supply will be there and placates retailers disgruntled about seeing the same products they sell, deeply discounted online.
For now, though, Gilt appears to have the still-struggling economy on its side -- and now it apparently has a tidy financial infusion to help it along, too.