Broadview: A defense stock for growth
The security company held its own when the market was down, and it continues to rise with the overall rebound.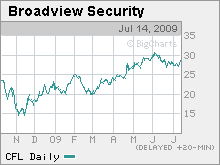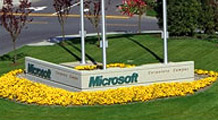 After a bleak 2008, equities are looking up. But whatever the market, our trademark long-term portfolio can help you build a nest egg for a secure future.
NEW YORK (Fortune) -- In the world of defensive stocks, staples like Kraft, Wal-Mart and Altria are investor perennials, because consumers turn to them in bad times as well as good.
But as the markets bounced off their March lows, the defensive stalwarts lagged overall gains. The S&P 500 (SPX) has climbed 33% since then, compared with Kraft's (KFT, Fortune 500) 27% rise and Wal-Mart's (WMT, Fortune 500) 1% increase.
Not so for one of the lesser-known defensive plays. Broadview Security (CFL), the $1.2 billion company formerly called Brink's Home Security, has beaten the S&P 500 to return 43%, and analysts are expecting more gains.
Broadview finds itself in a good spot. Subscribers to its home alarm service grew by 5.7% in the first quarter and earnings rose 19% to $15 million -- this as some analysts predicted that the housing downturn (and fewer new homes needing alarm systems) would hammer earnings. But in a recent interview, Broadview CEO Bob Allen dismissed the slump: "The housing market is down 50%-transaction wise, but we're still growing," he said.
Americans worry about increased crime during a recession, according to Allen, highlighting the stock's defensive nature. "People get nervous," he said, "which is why we've grown through good times and we've grown through hard times."
Hot Growth
Broadview has grown at a faster clip than the overall home security market. In 2008 nearly 20% of U.S. homes had security monitoring, up from 15% in 2001, according to research firm Parks Associates. In the same time, Broadview, which gets 90% of its sales from residential alarm systems, nearly doubled subscriptions to 1.3 million. It's now the second-largest alarm monitoring company in the U.S. (ADT, part of Tyco International (TYC), is the biggest with about five million customers in North America.)
Ian Zaffino, a managing director at Oppenheimer & Co., notes that Broadview has signed customers through its direct TV advertising (commercials of a lone woman at home and intruder are common) and kept them with good customer service, while avoidng costly acquisitions of smaller competitors during the housing boom.
Zaffino rates the stock "outperform" and expects more growth through the downturn as Broadview "continues to tap into that un-penetrated market of home security."
Broadview started in 1983 as part of The Brink's Company (BCO), which includes armored car and global airfreight businesses. Last October its parent company spun it off, and as part of a planned $120 million re-branding, it recently changed its name to Broadview (the holding company is still called Brink's Home Security). Activist investors had long pushed for the unit to list itself separately to unlock market value that they believed was hidden by its parent company's other businesses.
Broadview bases its model on adding subscribers for the long-term. The company pays most of the $1,200 to $1,600 upfront cost to install its alarm systems, then charges about $35 a month for the subscription. Customers are locked into a three-year contract, but Broadview relies on good service to keep them past four years when they finally become profitable. The company says its average customer subscribes for 12 years.
Jerome Lande, assistant portfolio manager at Millbrook Capital, a New York-based hedge fund and longtime shareholder, points out that as the housing market slumps, Broadview saves cash (because it is doing fewer installations), while continuing to collect monthly subscription fees, which help maintain profitability. When housing recovers, Broadview can get back on its growth path.
"That's the core beauty of this as a defensive stock," he says.
Analyst Christopher Marangi of Gabelli & Company notes that more than 90% of Broadview's revenue is predictable, coming from recurring monthly subscription charges. In that respect, "it has quasi utility-like characteristics," says Marangi, who personally owns the stock.
Because the housing market is expected to remain weak for some time to come, CEO Allen says Broadview will focus on growing its commercial business to grab market share from ADT. Commercial customers account for $8 billion of the monitored security industry's $14 billion in annual sales, he says. "Commercial is a big place to play."