Can CIT end the bailout mentality?
The government is gambling that the marketplace can rescue the troubled lender and show that the financial system is getting back on its feet.
Bailout tracker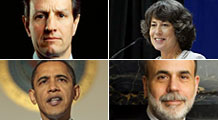 The government is engaged in a far-reaching - and expensive - effort to rescue the economy. Here's how you can keep tabs on the bailouts.
More
NEW YORK (Fortune) -- Is the financial system stable enough yet to fix itself? Can the government take off the training wheels? That's the significance of CIT Group's crisis, beyond its role as a lender to about 1 million small- and medium-size businesses.
The government's decision to let CIT careen toward bankruptcy was contrary to the serial bailouts that Americans have come to expect over the past year. But that gamble looks like it may pay off by showing that parts of the financial system can operate without Washington support.
CIT's board has reportedly approved a deal for a $3 billion short-term loan from a group of its largest bondholders, including Centerbridge Partners, PIMCO, and Silver Point Capital. The bridge financing should give CIT the time it needs to try and pay down or renegotiate the money it owes these lenders. And it significantly increases the odds that CIT will make good on the $1 billion debt payment due to its bondholders this August.
CIT had already received $2.3 billion last fall from the government's Troubled Asset Relief Program; that money would have been lost if CIT had been forced to declare bankruptcy.
The New York-based firm's ability to craft its own rescue deal could help reassure those people worried that the banking system would forever need Uncle Sam's support in order to function.
"This was the Obama administration drawing a line in the sand," says management consultant Peter Cohan. "It wouldn't be that difficult to spend a few billion from the TARP, a paltry amount compared to the money spent on Bank of America, Citigroup, or insurer American International Group. But we needed to see that the financial system could clean up its own messes again."
The deal would indicate that the bondholders are strong enough to aid a crippled peer and make money at the same time. The lenders, by extending money to a troubled company, will make a return on their investment commensurate with their capital at risk. The Wall Street Journal reports that the bondholders will charge 10.5% interest, a lucrative rate given that the Federal Reserve's target overnight lending rate is near 0%.
Now CIT has a window of time to get rid of the debts that could push it into bankruptcy by persuading bondholders to swap debt for equity in the company or for bonds that mature at a later date.
But the company might still have to file for bankruptcy if it can't solve its debt problems, which would provide yet another gauge of the health of the financial system. In order for CIT to reorganize in an orderly fashion, it must obtain a debtor-in-possession (DIP) loan, which would give it the money necessary to operate while it reorganizes.
Since the credit crunch began, foundering companies have had a hard time getting DIP loans, because banks have been too weak or too wary to provide higher-risk loans. But Cohan thinks a stronger bank like JPMorgan Chase (JPM, Fortune 500) would consider providing DIP financing, which would be another indicator that the system is more resilient and less in need of government aid.
"Companies once believed they could run the risk of failure and worked like hell not to fail, but then we established the idea that politically connected or too-big-to-fail businesses would be given a government safety net," says Charles Ortel, managing director of research firm Newport Value Partners. Now that safety net is being withdrawn.
The ability for companies to successfully restructure under Chapter 11 bankruptcy protection is the economy's way of picking up the pieces of a failed business and putting them to better use.
"There is still value in CIT that can be picked out if the company files for bankruptcy," says Sylvain Raynes, a co-founder of R&R Consulting, which advises on securitization, debt financing, and project finance. "In that scenario, it should work the same as always. The shareholders get nothing, the bondholders are paid, but likely less than the value of their bonds, and then another firm buys the assets that are worth something and grows its business."