Profit from commercial real estate's fall
Some REITs and ETFs are better positioned to take advantage of the downturn.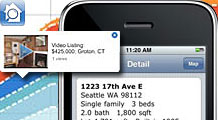 Real estate Web sites are constantly coming up with new ways for homebuyers to get information about the market. Here are 5 new sites that can make house hunting easier.
NEW YORK (Fortune) -- Trouble is brewing in the commercial real estate market, with everyone from building owners to Ben Bernanke wondering if we're in for "Real Estate Nightmare, Part 2."
Nearly every part of the market -- hotels, retail space, factories, and office buildings -- faces headwinds. Jay Leupp, senior portfolio manager of the Grubb & Ellis AGA Realty Income Fund, says it could take two to three years, depending on the part of the market, for occupancy to grow and landlords to be able to raise rent.
Office buildings and factory space seem to be the worst off, as businesses slim down and push expansion plans into the future. The vacancy rate for office space hit 15.9% in the second quarter of this year, up from 13.2% a year ago, according to a report from real estate research firm Reis. This is the highest vacancy level in four years. Over the same period, rents fell by 6.7%, the largest drop in seven years, according to the report. .
"In this environment, office tenants won't renew unless it's at a ridiculously low rate and they typically renew for a 10-year contract," says Harry Rady, chief executive of Rady Asset Management and former chief investment officer at the commercial real estate conglomerate American Assets. "This caps the value of the asset."
Hotels aren't expected to recover until individuals and businesses have the budget to travel again, while retail is similarly levered to the consumer economy.
"Several retailers have filed for bankruptcy or liquidated, and others are closing poorly performing stores to stay alive," says Robert Ivanhoe, chairman of the global real estate practice group at law firm Greenberg Traurig. "Most owners of significant retail space are being asked for a deal on rent by many of the tenants that remain in their retail properties."
Given the grim picture, what should investors do?
For starters, be very wary of bank stocks. Despite a recent spate of better-than-expected earnings from Wall Street titans like Goldman Sachs (GS, Fortune 500) and JP Morgan (JPM, Fortune 500), Bank of America (BAC, Fortune 500) still has billions of dollars in real estate loans and commercial mortgage-backed securities. Also keep in mind that many regional players loaned money to homebuilders or property developers.
Investors who are incredibly bearish on the sector might consider buying the ProShares UltraShort Real Estate exchange traded fund (SRS), which shorts the Dow Jones Real Estate index. The ETF is trading at around $16, the very bottom of its 52-week range. It hit a closing high of $259.36 on November 20, 2008.
Some real estate investment trusts (REITs), which are falling now, should begin to bounce back because they have a lot of cash on the books and can take advantage of the current market downturn. REITs invest in real estate assets. Well-run REITs can buy properties at low prices that will be much more valuable when the downturn is over. They are required to distribute 95% of their income, so they pay extremely high dividends to investors.
Look for REITs with the strongest balance sheets and the cash on hand. They're the ones most likely to pick up assets at fire-sale prices and still have money left over to cover any losses on existing property investments.
"We're seeing rapid run-ups and sell-offs in REITs, so it's best to buy on down days," says Leupp. "Track a portfolio of REITs you like and wait to catch them after they've come down from a high point."
One REIT he likes is Alexandria Real Estate Equities (ARE). While it's taken a hit along with its peers, Leupp says its fundamentals look very good.
Alexandria invests in office space tailored for drug research and manufacturing companies. These highly specialized spaces have 10-20 year leases and are concentrated in San Diego County, San Francisco, Boston, Switzerland, Germany, and Ireland. Leupp believes that demand from biotech and pharmaceutical companies should weather the current recession. The REIT also pays a 9.7% yield.
If you want to invest in a REIT that has a history of making money when the commercial real estate market is distressed, Rady suggests Vornado Realty Trust (VNO). "These guys are extremely opportunistic and have a lot of experience making money in a downturn," he says. It has about $2 billion in net cash on hand for distressed acquisitions, while it yields just under 9%.