For Madoff's right hand, hearing ends in handcuffs
Judge denies bail for Madoff lieutenant Frank DiPascali despite his cooperation with federal prosecutors - and tearful courtroom confessions.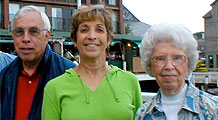 Some people invested everything they had with Bernard Madoff. Now, they have nothing. Here are their stories.
NEW YORK (Fortune) -- The chief lieutenant in Bernie Madoff's multi-billion dollar Ponzi scheme emerged from the shadows for the first time yesterday only to find himself unexpectedly in custody.
Frank DiPascali, 52, who is cooperating with federal prosecutors, pleaded guilty to 10 felony counts of conspiracy, fraud, money laundering, and perjury and was remanded to federal custody.
Compact and trim in a charcoal pinstriped suit -- rather than the sweatshirt, pressed jeans, and topsiders he favored at work -- his jaw muscles visible as he nervously worked over a piece of gum, DiPascali described his rise at the firm. "I was a kid from Queens," he told the courtroom in a gravelly baritone whose accent confirmed the truth of his assertion.
Madoff hired him right out of Archbishop Molloy High School, he told the judge, and DiPascali went on to work for Madoff for 33 years, rising from a research analyst and office everyman -- who helped coordinate the firm's 1987 move to Manhattan's so-called Lipstick Building -- to a pivotal role.
Referring to the now infamous 17th floor of that tower, where Madoff's fraud operated, DiPascali said, "I became sort of the supervisor of that floor."
As he put it, "by 1990 or so, Bernie Madoff was a mentor to me and a lot more." DiPascali became fiercely loyal to that mentor, he said. "I ended up being loyal to a terrible, terrible fault."
Describing the Ponzi scheme as beginning in the "late '80s, early '90s," DiPascali offered a plain-spoken but bare-bones narrative of his role in the fraud.
He described looking up stock prices after the fact to create fictitious records. He confessed to helping Madoff fabricate specific returns (as Fortune reported in April) for certain favored investors. And he admitted lying to the SEC.
DiPascali was more emotional than Madoff has been in court. DiPascali brushed away tears at one point, and his voice caught. "It was all fake. It was all fictitious. It was wrong and I knew that at the time."
He took responsibility for his actions -- while also asserting that Madoff had led him to believe he had such massive personal assets that, if anything were to go wrong, investors would be protected.
Still, for the most part, DiPascali seemed contrite. "I apologize to every victim of this catastrophe," he noted in a voice far from Madoff's monotone, "and to my family and to the government. I'm very, very sorry."
Perhaps the most significant statement DiPascali uttered was a seemingly benign phrase he repeated multiple times in the courtroom, almost in passing: "together with others."
After hearing Bernie Madoff describe his own role -- but only his own role -- in the fraud at his guilty plea in March, more than one observer was frustrated at the improbable implication that a multi-billion dollar scam was seemingly being operating by a single person.
DiPascali, by contrast, is the figure who has been telling prosecutors -- as Fortune also reported in April -- who else was involved in the operation. DiPascali didn't name names in the courtroom, but as his lawyer, Marc Mukasey of Bracewell & Giuliani, put it, DiPascali's "full-time job" now is talking to prosecutors and the FBI.
No bail
That "full-time job" became part of the only dispute in the courtroom yesterday. But the squabble wasn't between -- as one would expect -- prosecutors and the defense. It was between the judge and lawyers for both sides.
Prior to yesterday's hearing, the prosecution and defense had jointly requested that DiPascali be permitted to remain free on $2.5 million bail until his sentencing, which will not occur until May at the earliest. Typically, when lawyers for both sides agree, the judges endorse the deal. (By contrast, the prosecution and the defense vociferously disagreed on whether Bernie Madoff should be permitted bail.)
But citing a presumption that a convict should be denied bail in the absence of "clear and convincing" evidence that he isn't a flight risk, U.S. District Judge Richard Sullivan would not grant the bail and said that, for him, DiPascali's decades of fraud outweighed months of cooperation.
Mukasey fought tenaciously on his client's behalf, arguing again and again for bail and stating his willingness to toughen the terms. Mukasey asserted that DiPascali is a changed man. "He lived in a universe for 25 years" -- Madoff's firm -- "that he doesn't live in. That universe was twisted and perverted."
As Mukasey put it, "Mr. DiPascali started with Mr. Madoff when he was 18 or 19 years old. He didn't know how things were done at Goldman Sachs. He didn't know how things were done at Morgan Stanley." Mukasey added, "Is he guilty? One thousand percent." But, he said, DiPascali is no longer living in a universe where it's okay to, say, fake trade tickets.
Even prosecutor Marc Litt argued in favor of bail for DiPascali. He vouched for DiPascali's reliability -- certainly not an obligatory statement for a prosecutor to make. Litt argued that it would "hamper" the government's investigation to have such a witness incarcerated rather than available more or less full time. He obliquely referred to the need for DiPascali to have access to a key computer server, an apparent reference to the IBM AS/400, a venerable server on the 17th floor of the Madoff offices that figured prominently in the fraud. (For more on the AS/400, see "How Bernie Did It.")
Said the judge: "I don't think I can overlook the conduct he admitted to today.... We may have to disagree on this one." As he noted, many witnesses have cooperated from jail in the past. And he added that he would permit the prosecutor and defense lawyers to submit a new motion for bail -- something that seems inevitable within days.
As the judge spoke, federal marshals began inching closer to the defendant. And finally, DiPascali -- who was not expecting to be taken into custody -- was handcuffed and led from courtroom, away from his brief moment in the public eye and to shadows of a different kind.