Goldman CEO lashes out at big paydays
But while Lloyd Blankfein's compensation guidelines would change the structure of pay packages, they don't address the eye-popping size of bonuses.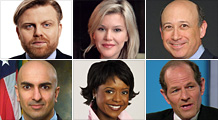 Would panic prevail? That was the question gripping the world in the days surrounding the fall of Lehman Brothers on Sept. 15, 2008. One year after that terrifying Monday, the people who struggled to cope with the financial crisis share what they were thinking as chaos broke out.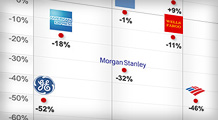 Key financial firms received a wide range of assistance during the past year. But scroll over their stocks and you'll find few winners – and plenty of losers.
More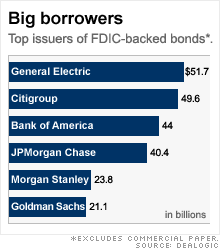 NEW YORK (Fortune) -- Don't believe Lloyd Blankfein when he says he feels your bonus pain.
The Goldman Sachs (GS, Fortune 500) chief executive officer took aim Wednesday at the million-dollar bonuses paid last year by some of the firm's rivals. Public anger in such cases is "understandable and appropriate," he told the audience at a banking conference in Germany.
Blankfein went on to outline the standards he believes should prevail on a cleaned-up Wall Street. Multiyear guaranteed employment contracts should be banned, he said, and executives should be obliged to hold equity awards until they retire.
But as sound as Goldman's policies are, adopting them won't change the equation that makes so many people squeamish: Players in the financial sector are reaping huge rewards -- while taxpayers continue to bear much of the risk.
"The principles they're talking about go mostly to the structure of pay," said Sarah Anderson, a fellow at the Institute for Policy Studies, a Washington-based think tank. "There's no real critique of the pay levels."
Consider the study released last week by the institute. It showed that the top 100 executives at the 20 biggest banks that received Troubled Asset Relief Program loans -- firms such as Goldman, JPMorgan Chase (JPM, Fortune 500) and Bank of America (BAC, Fortune 500), which now owns Merrill Lynch -- made an average of $13.8 million each last year.
Admittedly, that's down from $19.1 million in 2007. The figure, derived from company proxy statements, covers salary, bonuses, stock awards and other compensation.
Even so, $13.8 million is a nice sum for executives whose companies, in many cases, wouldn't have survived last fall's financial apocalypse without taxpayer assistance.
At Goldman, Blankfein made $43 million last year, using the institute's math -- bringing his three-year take to $151 million.
To be sure, Blankfein turned down his bonus last year, citing the firm's acceptance of federal support. And Goldman has surged back to profitability this year after a tough second half in 2008. The firm said in July it had already set aside $11 billion this year for employee pay.
But skeptics might point out that those gains have been built on the support provided, willingly or otherwise, by taxpayers -- at a time when unemployment is approaching 10% and personal income has been falling.
Anderson notes that even beyond the $700 billion TARP program, the government has provided financial firms with assistance via expanded deposit insurance, federal guarantees of bond issues and extensive subsidies, via Fannie Mae (FNM, Fortune 500) and Freddie Mac (FRE, Fortune 500), for the mortgage market.
And while Goldman and other firms have made headlines by repaying TARP funds and repurchasing associated warrants, most of those other programs remain in force.
Though reform of pay practices was high on the agenda earlier this year, as the stock market fell to levels last seen in the mid-1990s, the subsequent recovery has pushed that discussion into the background for the time being.
"It has been a real eye opener to see how much this system is entrenched," Anderson said. "It goes to show you can't rely on companies to do the right thing."