Condi: The should-be face of the GOP
She's smart. She's experienced. She's worldly. Republican strategists worried about their party's future should take heed.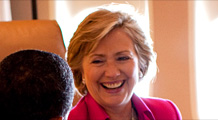 Rarely has D.C. wielded so much power over business, and never have so many women been calling the shots. We've ranked the 10 with the most impact excluding just one -- Michelle Obama -- who exercises her own brand of influence.
WASHINGTON (Fortune) -- Successful candidates follow a simple fundamental rule: Define yourself before your opponent can define you. The Republican Party, which mustered a thumbs-up from only 38% of voters in last week's Bloomberg poll, sorely needs to brush up on the very rule it counsels in candidate-training sessions.
To skeptics in search of a political home, the GOP's image has devolved into that of a minority collection of name-calling, "no"-saying, backward-looking, talk-show bullying cranks -- a definition gleefully perpetuated by Democratic pols. So next time the eloquent and elegant figure of Condoleezza Rice strides onto a stage, GOP strategists worried about their party's future should pull out their notebooks.
I interviewed Rice onstage last week on the closing day of Fortune's Most Powerful Women Summit, where she achieved a star-turn -- and did so while mounting a vigorous defense of former President Bush's oft-vilified foreign policy, and delivering a pointed critique of President Obama and congressional Democrats.
After praising President Obama and his team as "patriots who are going to try to do what's best for the country," she nevertheless warned about letting down our guard against another terrorist attack. "I am grateful -- I don't say proud, just 'grateful' -- that there wasn't another attack over the past eight years," she said. "But every day terrorists plot and plan to try to attack us. They only have to be right once. We have to be right 100% of the time. But I know, too, that can only happen because men and women in uniform are fighting on the front lines."
She offered sharp words for Democrats in Congress who want President Obama to begin making plans to pull out of Afghanistan, a war that is becoming increasingly unpopular with the American public.
"The last time we left Afghanistan, and we abandoned Pakistan," she said, "that territory became the very territory on which Al Qaeda trained and attacked us on September 11th. So our national security interests are very much tied up in not letting Afghanistan fail again and become a safe haven for terrorists.
"It's that simple," she declared, "if you want another terrorist attack in the U.S., abandon Afghanistan."
Rice acknowledged flaws in Afghanistan's recent elections but quickly inserted an addendum bolstered by her personal credentials: "Our democracy wasn't so perfect at the beginning either. My ancestors were three-fifths of a man. My father tried to vote in 1952. You couldn't guarantee voting rights for blacks in the South until 1965 with the Voting Rights Act. So don't tell me these people can't get it right because their democracies are struggling."
That said, Rice stressed the importance of setting "goals" in Afghanistan and bringing civilians in alongside troops -- as both administrations have done -- to pursue reconstruction and development in local communities. That strategy was late in coming to Iraq, she conceded.
On Iran, Rice tactfully questioned the Obama strategy of engaging the Tehran regime in direct talks about its nuclear program. "I don't have any problems with engaging bad guys. We did our share of it," she recalled. "The problem is that engagement is a tactic not a strategy. You have to ask yourself what the end is. When you go into the room with an adversary, you had better have sticks in your bag as well as carrots."
Obama officials, she warned, will be speaking to leaders not likely to survive the current internal political turmoil. "The Iranian regime is vulnerable right now," she declared, "I don't know whether it's a year from now or five years from now, but that regime is done. It has split the clerics...It has made [the brutal post-election crackdown] the formative political memory" of young people, who make up 70% of the population, she added.
Rice is mostly known as George W. Bush's Secretary of State. But she is also a concert pianist who once dueled with Yo-Yo Ma and played solo for the Queen of England; a Russian scholar and football fanatic who once listed NFL commissioner as her dream job; a black woman who grew up in the segregated South and is now something of a rock star among the 'tween girl set. (She plans to edit a version of her book about her parents for young girls.)
In other words, her appeal is broad. Onstage, Rice sounds alarms about the threat of terrorism while still sounding reasonable. She offers compassion for women in oppressive societies while hard-headedly tying their plight to America's national security. "I think that societies that treat women badly are dangerous societies," she insists.
Rice is not the only woman counter-acting the GOP's narrow image these days. All the unflattering attention paid to Sarah Palin has overshadowed the likes of former eBay (EBAY, Fortune 500) chief Meg Whitman running for governor of California, Maine Senator Olympia Snowe gamely trying to broker a health care deal in Congress, and that other Cheney -- Liz -- relentlessly making the case for a vigorous "war on terror" to TV and radio audiences.
Rice quashed rumors of a 2008 presidential run and who knows whether she'll reconsider after she decides to move on from grading papers at Stanford. As Bush's national security adviser at the launch of the Iraq War, she will never appeal to hardcore Democrats. But to those millions of independents and soft Republicans who pulled Obama over the top in last year's election -- a familiar brand of voter at this Fortune gathering -- Rice has allure.
At the end of our interview, as I stood to shake Rice's hand, I glanced over my shoulder at this audience of women-CEO's and senior business and government leaders, media opinion-makers and entertainment stars, ground-breaking academics and committed philanthropists. It was an audience I knew, first-hand, viewed the Bush administration with doubts and, in some cases, outright hostility. So what I saw was telling.
Every single woman in that San Diego hotel ballroom was on her feet-giving Condi Rice a standing ovation.