Power knows no bounds for this diverse group. Included on our list: the woman who built Australia's biggest bank (No. 2) and the Siemens executive (No. 6) who is the first woman to sit on that company's board in its 160-year history.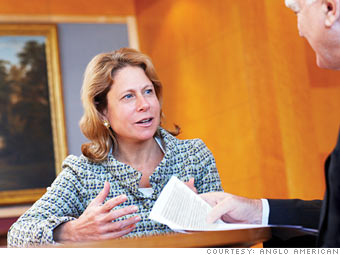 CEO
Anglo American
2008 rank: 1
Country: Britain
The first non-South African and the first woman at the helm of the $44 billion mining company, Carroll, 52, has focused this year on selling businesses and managing costs.
She unloaded AngloGold Ashanti along with other assets like aluminum and the agribusiness, shifting away from gold and zeroing in on a core mining portfolio like platinum, iron ore, and copper.
The company owns a 45% stake in diamond conglomerate DeBeers, but a slump in diamond sales contributed to a small dive in revenues down 11% to $23.4 billion in 2008.
Carroll has also made it her mission to transform the safety record of the largest private sector employer in South Africa: In the first half of 2009, 93% of Anglo's operations were fatality-free, up from 90% in 2008.
NEXT: 2. Gail Kelly