Stopping Detroit's brain drain
The city is pushing for new businesses, arts and a revitalized downtown to keep young people in this hard-hit town.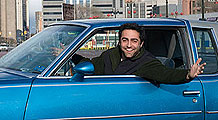 Detroit residents often are asked why they stay. 13 locals answer that question - and reveal their favorite treasures of the Motor City.
DETROIT (CNNMoney.com) -- Three years ago, with a freshly-minted law degree, Connecticut native Tom Northrop started job hunting in Detroit.
While this seems like a normal step after law school, his prospective employers just didn't get it. Not many young, single, educated people were moving to Detroit.
They were so surprised they wanted him to put his reasoning down on paper: He was marrying a girl from the area. Perhaps it was only to ease their sense of disbelief.
"They didn't understand people coming here who aren't from here," said his wife Lauren, also a lawyer, over dinner one night at the couple's home in the upscale suburb of Bloomfield. Basically, no one moves to Detroit unless they have family ties in the area, she said.
And more often that not, young people just move away.
Along with the exodus of auto jobs over the last few decades, Detroit has also experienced another, maybe even more alarming trend - Its young, smart people leaving for opportunities elsewhere.
Broad numbers are difficult to come by, but nearly a quarter of respondents in a survey for Fusion, the area's young professional association, said they plan on leaving Detroit within the next two years.
Among the larger population of 4.6 million people, 63,000 households left the greater Detroit area in 2007 alone, according to Internal Revenue Service numbers supplied by the Urban Studies Department at Wayne State University.
City leaders are well aware of this problem, and are working hard to fix it.
As it turns out, young people generally want the same things other people want out of a city - good jobs, safe streets, stuff to do at night, decent schools, quality healthcare, ample parks, easy public transport. Basically, they want a pleasant life.
"We can't just create new entrepreneurs and then let them leave," said Mariam Noland, president of the Community Foundation for Southeast Michigan. "We need to do all the things that are going to attract new talent and make this a desirable place to live in, or to come to. We have to make it so people want to stay."
To that end, Noland raised $100 million in grant money from various foundations, money that is now being used to build the business and cultural institutions that can bring this city back.
That's a tough prospect in an area hard hit by the dual blow of recession and auto industry bankruptcy. But Nolan, along with a host of other city leaders, see the broad outlines of a plan.
Jobs - In a metro area with unemployment running about 50% higher than the national average, putting people to work is a priority.
Many business leaders don't think the city can attract big, new auto manufacturing plants like it once did. The industry has too much capacity even now, and the competition is too tough from other states in the South.
Instead, they're pushing for Detroit to embrace the new economy. The tools are similar to ones towns use the world over - minimal bureaucracy and generous tax breaks.
But Detroit hopes to leverage its natural lead in engineering left over from its days of auto dominance into new industries like automotive electronics, software, and alternative energy.
They've had some success. Techtown, a business incubator started in 2000, boasts 98 businesses in everything from televisions to biotechnology.
Wayne County is promoting its "aerotropolis" idea - encouraging business to set up shop by the airport - taking the lead from cities like Dubai and Frankfurt that have used their airports as engines for economic growth.
Attracted by easy air transport and lots of land, General Electric recently announced plans to build a wind power R&D facility near the airport that could bring in 1200 jobs. General Motors and the battery maker A123 Systems have announced plants for advanced vehicles that together could employ 4,000 or 5,000 people - the size of a large auto plant.
The local Chamber of Commerce is in talks with foreign automakers and parts companies to set up shop in Detroit. It's also pushing a plan to make the region a global trade hub, modernizing the extensive road, rail and water links that already exist.
Downtown Detroit, which doesn't look nearly as dreary as the ring surrounding it, has attracted some new tenants as well.
The technology firm EDS relocated downtown about 5 years ago, bringing with it some 1,500 jobs. Quicken Loans is supposed to move downtown shortly, adding another 3,000 to 4,000 employees.
'It's challenging, and it's frustrating," Brian Holdwick, a 43-year old official at the Detroit Economic Growth Corporation and life-long Detroiter, said about trying to attract new industries to this city that has seen so much decline. "But to see something like the (historic) Book Cadillac Hotel come back to life, after being shuttered for 23 years, it was very important to me. It's very rewarding."
Safety - Detroit has one of the highest murder rates in the nation. There have been more killings so far this year in Detroit than in New York City, and New York has nearly 10 times as many people.
"People get jumped, cars get stolen, everyone's got a story," said Sean Blackman, a 39-year old music composer who's lived in the Detroit area his whole life. "If you move downtown, it's just part of the scene."
Like almost all Detroiters we've spoken to, Blackman loves the city and is proud to live there. But it has got to get safer if people are going to stick around, he said.
The police department has embarked on an aggressive strategy to curb the situation, including inter-agency operations that flood troubled neighborhoods with more cops.
A recent campaign put 360 additional police in a six square mile area, with a particular focus on violent crime. Officers would pay unexpected home visits to violent offenders on parole, often finding guns or other weapons in their possession. They also increased the number of traffic stops in the hope of ensnaring people involved in bigger crimes.
But in a city with a declining population and troubled businesses, finding money is hard. The police force has just 3,000 officers now, down from 4,000 ten years ago.
Culture - From Motown to movie stars, Detroit packs a deep roster when it comes to arts and entertainment. Madonna is from Detroit. As is Francis Ford Coppola, Robin Williams, and the late George C. Scott.
Cheap rents and an edgy vibe have made Detroit somewhat of a Mecca for young musicians in the garage rock and techno scenes, and a lot of people appreciate the city's gritty feel.
"The disgusting kinda looks beautiful after a while," Craig Brown, a 25-year old guitarist in the local band the Sugarcoats, said over beers one night at a barbecue joint in the city's up-and-coming Corktown district.
City leaders are also trying to promote more upscale venues. They're touting a "cultural corridor," a strip along one of the main drags in town that includes Wayne State University, the business incubator, two health centers, the symphony, the history museum, and loft-style apartment housing.
"We're trying to create a density that's attractive to young talent," said Noland, the Community Foundation president.
Connecting it all together - Detroit's redevelopment has taken place in pockets. The city is a patchwork of places. Some seem lively, full of businesses and homes. While others are the epitome of urban decay.
Parts of downtown Detroit seem to be doing well. They are relatively clean, with a nice new river walk populated with both old and new office buildings, although vacant buildings remain. One local tour operator said it's one of the safest downtowns in the country.
Development is trying to expand from downtown along the river, although the new restaurants, lofts, shops and other symbols of gentrification quickly give way to gutted homes and boarded-up store fronts.
The "cultural corridor" and the Eastern Market area - home to one of the oldest public markets in the country as well as a handful of trendy restaurants, are northwest of downtown.
The trick is to grow and connect these lively places so they spark new life in the areas they border.
To do that Detroit needs to shrink. Thanks to suburban flight of the late 20th century, it's a city of under a million people that was built to accommodate twice that many. The city needs to do something with all those empty buildings, and tie the budding neighborhoods together. There's talk of turning blighted lots into public parks, greenways, and of installing a light rail system.
"When you let it go, as Detroit did, you have cascading ripples of blight that move out from the center and keep going," said Carol Schatz, head of the Central City Association of Los Angeles who helped turn around that city's downtown in the 1990s. "But when you revitalize the downtown, it goes in the opposite direction."
The question is, will Detroit be able to get the critical mass going to get things really moving in the opposite direction?