Detroit's jobless economy: Startups take root
Hundreds turn out for tips on how to open their own business, and city shows off its support network for entrepreneurs.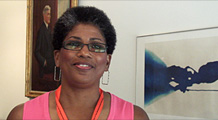 With job prospects bleak, many people in Detroit are deciding to start their own business.
NEW YORK (CNNMoney.com) -- In Detroit, a city with rampant unemployment, big crowds in the middle of the day may mean someone is giving out freebies. But on a recent workday, over 450 people packed an auditorium downtown. They weren't looking for a hand out, sympathy or even a job application. They were looking to start their own business.
Helping them to do that was the thinking behind a recent day-long workshop, the last in a series of events this summer meant to foster innovation in the struggling city.
These would-be entrepreneurs flocked to an auditorium on Wayne State University's campus with ideas big and small.
The day featured a motivational speech by Chris Gardner, the formerly-homeless-father-turned-Wall-Street-wiz who was the basis for the Will Smith movie "The Pursuit of Happyness."
Attendees also took part in a variety of workshops including ones on how to raise money, how to save on shipping costs and how to run a service or lifestyle businesses. Each attendee got a chance to meet one-on-one with a business counselor and the opportunity to sign up for more free classes.
Some proposals focused on technical businesses -- a former Ford manufacturing expert wants to start a consulting firm advising companies on how to make their manufacturing processes more efficient, while a former software engineer had started a company that makes Web-based system that hosts emergency contact and other medical information for children.
Others had more mainstream ideas. One woman was angling to expand her beauty salon to a full service spa; a man wanted to open a wine shop. "I taste bad wines so you don't have to" was his motto.
"It's an unbelievable experience," said Darlene Tate, an administrative assistant who just signed up to take a two-year course offered by the organizers of the event that she hopes will help her start her own staffing agency. "Being here lets you know that you're actually on your way to doing something you want to do."
Over 1,500 people in total attended the three workshops offered this summer, far more than expected.
"I think they had to turn people away," said Joy Torchia, a spokeswoman for the Kauffman Foundation, an organization promoting entrepreneurship nationwide and a partner at the Detroit event. "The scale they are doing this on is really quite unique."
Attendees could sign up for additional free classes that are part of Kauffman's FastTrac entrepreneur program, which are similar to a college course and generally run three hours a week for 10 weeks. Due to the huge amount of people out of work -- unemployment in Detroit is running close to 25% -- Kauffman is running an accelerated program in Detroit and a handful of other cities where students run through all the material in three weeks.
The primary organizer of the event was TechTown, one of a handful of organizations designed to help start-up businesses in a town struggling with decades of over-reliance on a now-shrinking auto sector.
TechTown is what's known as a "business incubator." Operating since 2000, the group provides reduced rent, conference room space, mailboxes, computer and printing access and a variety of other services for local startups.
TechTown is one place where the people attending this workshop may end up at if their businesses get off the ground.
There are currently 98 business housed in one five-story building -- which used to be the main design studio for General Motors and is the birthplace of the Corvette.
TechTown has plans to renovate two more nearby buildings, and ultimately wants to occupy 12 city blocks with not just new businesses but also schools, medical offices, apartments and other trappings of a thriving business district.
The plan is to attract enough talent to the area that a critical mass takes shape, and businesses can feed off each other's energy and success.
"What's going on here is the biggest experiment in entrepreneurship in the nation," said TechTown director Randal Charlton. "Our job is to make sure they get the space and support and services they need to drive the Detroit economy."
So far businesses in the building seem happy with the arrangement.
Asterand, a company that procures human tissue for use in pharmaceutical research, has been in business since 2000 and is TechTown's biggest tenant.
Sales at the firm, which employees 65 people, have gone from $1 million to about $25 million in 2008, although the company now reports in pounds as a result of a 2006 merger and its stock is traded in London.
Why did the company move to Detroit?
"Resources like this building," said John Stchur, the company's chief financial officer. "It gives entrepreneurs easy access to good advice, and introduces them to good funding sources."
Stchur also listed the low cost of living and talented job pool as other reasons for moving to the area.
Detroit does have all these things, and is trying to leverage them as fast as it can to attract thousands of other Asterands as it struggles to free itself from its now-toxic reliance on its Motor City roots.

To write a note to the editor about this article,
click here
.