What you can learn from a closed fund
Vanguard's Primecap Core is no longer open to investors, but you can still poach a few ideas for your own portfolio.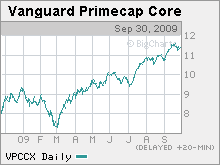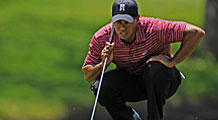 In a world of uncertainty, we could all use a little advice. So we asked a host of influential leaders to share with us the wise words that changed their lives forever.
NEW YORK (Fortune) --

Vanguard Primecap Core: (VPCCX)
Return since 12/01/08: 47%
If you're not already invested in Vanguard's Primecap Core, we have some bad news for you: The fund closed to new investors in August.
"The managers needed to preserve their investment flexibility," says Chris McIsaac, a principal in Vanguard's portfolio review group, which monitors funds run by outside advisors like Primecap. "They wanted to optimize the portfolio for existing clients."
The fund could eventually reopen its doors to new investors, he says.
"It's something we look at on an ongoing basis. If the market opens up and Primecap decides they have capacity, we might open up again."
Until then, it's still worth looking at Primecap Core's strategy, if only to poach ideas for your own portfolio. The fund, which has $4 billion in assets, has returned 47% since Fortune recommended it last December, 13 points better than the S&P 500 (SPX).
It launched just five years ago, but its six managers are known for their long-term record. Sister fund Primecap has achieved a 12.7% annual return since its 1984 inception, 2.9% better than the index.
Primecap's managers like to pick sectors they think are poised to expand. Then they look for underpriced stocks within those groups. Their blend of growth and value investing is unusual, says McIsaac. "Not all growth managers apply real price discipline," he says.
For example, he adds, many growth managers will buy shares of Google (GOOG, Fortune 500) at any time without worrying about the price, assuming the high-octane stock will climb no matter what. But Primecap Core took well-timed advantage of the shares' decline last fall, adding heavily to its stake in the Internet company. So far this year, Google's stock is up 62%, nearly four times as much as the S&P 500.
Primecap Core's managers tend to maintain "a pretty concentrated portfolio" without worrying about benchmarks for sector holdings, says McIsaac. Their biggest stake is in health care stocks, which make up about a quarter of the fund. The fund's top four holdings as of August 31 were Amgen (AMGN, Fortune 500), Eli Lilly (LLY, Fortune 500), Roche (RHHB.Y), and Novartis (NVS).
While the health care sector has lagged this year's rally -- in part because of concerns over political reform -- Amgen and Roche have actually beaten the S&P over the last year.
Primecap Core's managers still see potential in the defensive industry:
"We remain convinced of the long-term growth potential of our health care stocks," they wrote in an investor note this spring. "We believe pharmaceutical companies have the potential to generate above-market long-term growth rates."
The team pointed out that drugmakers factor in the costs of R&D expenses on an ongoing basis, which makes their earnings look less impressive compared to companies that amortize investments.
They also maintain large holdings of technology stocks such as Oracle (ORCL, Fortune 500), Intuit (INTU), and Texas Instruments (TXN, Fortune 500). "We believe changes in the technology industry over the last ten years -- including greater market concentration and a more global customer base -- have improved fundamentals, and we maintain our conviction in the companies whose stock we hold," they wrote.
One sector that Primecap has less faith in, according to McIsaac, is financial services. "[They] continue to underweight them -- they feel they're too speculative," he says.
McIsaac says the fund's managers are focused on the long-term. "The portfolio turnover in the fund is 9.2%, which implies that they're holding on to stocks for ten years on average," he says. "You'd be hard pressed to find another active equity fund with a lower turnover rate."
--Over the course of this week, we're checking in on five funds we recommended last December: Osterweis, Fairholme, Vanguard Primecap Core, Third Avenue Value, and Longleaf Partners. All five are beating the market by big margins.