Entergy: One powerful stock
Analysts say shares of the diversified electric power producer are poised for a rebound.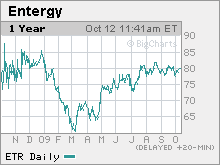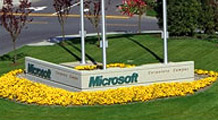 After a bleak 2008, equities are looking up. But whatever the market, our trademark long-term portfolio can help you build a nest egg for a secure future.
NEW YORK (Fortune) -- Stable, high-yielding utility stocks are never the fastest growers around, but this year they have been utterly static.
The Utilities SPDR (XLU) has returned 0% since January, compared with the S&P 500's (SPX) 17% ascent. According to Morningstar, utilities funds are the worst performing domestic stock group this year, averaging a 10.3% return. Demand for electricity declined for the first time in years, driving down sales, and investors skipped the sector in favor of higher-growth industries like technology.
But despite the sector's poor performance, analysts are lit up about one utility: Entergy (ETR, Fortune 500), a diversified power producer based in New Orleans. "We think it's a well-managed company at an attractive valuation," says David Burks, an analyst at Hilliard Lyons. "It's going to be well-positioned when the economy rebounds."
So far this year, Entergy's stock has fallen 5%. Connor Browne, co-manager of the Thornburg Value Fund (TVAFX), which has $3.6 billion in assets, says: "We appreciate that there are lot of investors now that wont touch [Entergy] because they don't like the utility business -- that's better for us."
Entergy gets half of its earnings from regulated power plants, whose rates are set by the states they're in, and the other half from merchant nuclear power, which is sold at competitive rates. Its regulated utilities are based in Louisiana, Arkansas, Mississippi, and Texas -- bad places to be in 2005, when Hurricane Katrina wiped out many of its assets.
Because the utilities are in the South, they have a large proportion of industrial customers, whose electrical demand declined 9.7% last quarter, while residential demand fell only 0.2%.
But while the company's ties to the industrial sector have concerned some investors, they haven't affected the utility's actual revenues very much. Its regulated division's profits declined about 3% last quarter, but that was due largely to a regulatory charge. CFO Leo Denault noted in the company's last earnings call that half of the company's industrial gross margin came from fixed charges, or contracts that didn't factor in changes in volume.
When industrial usage bounces back, though, it could be a source of growth. Goldman Sachs analyst Michael Lapides recently wrote that he expects it to improve alongside GDP and production, with Entergy -- which is on Goldman's "conviction buy" list -- in a good position take advantage of a rebound.
Going nuclear
The more volatile side of Entergy's business is its nuclear division, which Burks says has been a drag on the stock. "There's a penalty on them because they have the independent power operations," he says.
Last quarter, Entergy's nuclear earnings declined due to unplanned outages and losses in a fund it must maintain to support the plant. Power prices -- which, unlike regulated rates, are subject to market changes -- dropped as well.
The company currently operates nuclear power plants at five sites in the Northeast. Browne says Entergy benefits from being in the region because it competes with fossil-fuel burning plants, which have higher expenses.
"There's no cost for a nuclear plant," he says. "You don't have to buy coal or natural gas. As natural gas prices increase, you're able to sell your electricity for more." But natural gas prices have fallen to multi-year lows of less than $4, causing nuclear power prices to drop, too.
Lapides expects the trend to reverse. "Improving natural gas prices, power prices, and electricity demand, should support and enhance valuations for merchant generators and the merchant generation segments owned by diversified utilities," he wrote in a note to investors.
According to Browne, Entergy's current valuation factors in a forward natural gas price of $3 to $3.50. Meanwhile, the stock prices of gas production and drilling companies reflect much higher forward commodity prices. Should the price of gas rise, Entergy's nuclear business could reap large gains.
A case of the spins
With its dual operations, Entergy has a split personality -- it's part safe, regulated utility and part unpredictable nuclear power producer. While some investors like the combination, the utility has spent the last three years trying to bifurcate itself, splitting off its nuclear division, Enexus, then forming a joint venture between itself and the new company.
The spin-off has faced opposition in Vermont and New York, where regulators have expressed concerns about the new entity's financial health. Entergy has tried to appease the state by limiting Enexus' debt and boosting its cash balance. Existing Entergy shareholders would receive 80% of the new stock.
Entergy argues that the move would benefit shareholders by releasing the nuclear assets from the yoke of the regulated utility. The company intends to use the proceeds from the transaction to buy back Entergy shares.
Wells Fargo analyst Neil Kalton, who rates Entergy a "buy," applauds the company's intentions. "We highlight the proposed spin-off because it exemplifies what we view as a key appeal of the story -- a rare willingness on the part of management team to shrink its empire in the name of shareholder value," he wrote in a note to investors.
Hilliard Lyons' Burks is more skeptical -- he thinks it's a difficult time to execute the deal -- but he also believes the end result would be positive. "As far as we know, Enexus would be the largest publicly traded company of its kind," he says. "That business would generate significant cash flow."