15 best places for green jobs
'Clean tech' employment is poised to soar -- and the jobs will be all over the country.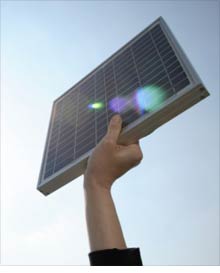 (NEW YORK) Fortune -- Dear Annie: I graduated from college with a civil engineering degree last spring, and I'm planning to go to architecture school. I want to focus my training on learning how to retrofit existing buildings and power plants to be more energy-efficient.
I'm looking at schools in different parts of the U.S. (I really could move anywhere at this point) and wondering: Where would be my best bet for finding a job when I graduate? Is California the best state for green jobs? What about Michigan (where I live now)?
Also, I will have student loans to pay off, so do you know where I could get information about what kind of starting salary might be reasonable to expect? -Maria in Motown
Dear Maria: Your timing is terrific. Many experts believe that, in the words of a new study by green-industry research firm Clean Edge, "we are just at the beginning of the 'clean tech' job creation era" and that renewable energy, environmentally-friendly building and manufacturing, and all aspects of energy efficiency will offer "the greatest opportunity for wealth and job creation since the advent of computers and the Internet."
Already, the economy is generating about 1.3 million new "green collar" jobs per year, says outplacement firm Challenger Gray & Christmas. By 2030, the number of U.S. jobs directly or indirectly related to energy efficiency and conservation will reach 40 million, according to the nonprofit American Solar Energy Society. Incidentally, their site, www.ases.org, includes a clean-tech job board you might want to check out.
And consider this: The Pew Charitable Trusts estimated in June that green jobs right now account for about 770,000 jobs in the U.S. - comparable to employment in mature industries like telecommunications (989,000 jobs) and far more than such established businesses as biotech (200,000).
And while most observers expect a boom, clean energy employment already rose by 9.1% between 1998 and 2007, the Pew report found, versus 3.7% growth for all jobs during the same period.
So where are all these green jobs? The Clean Edge study lists 15 metropolitan areas that are "current hotbeds of clean-tech job activity," based on the number of existing green jobs, the amount of green investing going on, and clean-tech employers' growth projections. (You'll notice that your hometown is No. 14 on the list, so you may choose not to move at all.) The top 15 right now:
1. San Francisco -- Oakland -- San Jose, CA
2. Los Angeles -- Riverside -- Orange County, CA
3. New York -- Northern New Jersey -- Long Island, NY, NJ, CT, PA
4. Boston -- Worcester -- Lawrence -- Lowell -- Brockton, MA, NH
5. Washington -- Baltimore, DC, MD, VA, WV
6. Denver-Boulder-Greeley, CO
7. Seattle -- Tacoma -- Bremerton, WA
8. Portland -- Salem, OR
9. Chicago -- Gary -- Kenosha, Il, IN, WI
10. Sacramento -- Yolo County, CA
11. San Diego, CA
12. Austin -- San Marcos, TX
13. Phoenix, AZ
14. Detroit -- Ann Arbor, MI
15. Houston -- Galveston -- Brazoria, TX
Still, clean-tech jobs aren't expected to be concentrated in one particular area. The researchers note that "the clean-tech revolution is a highly dispersed phenomenon, unlike the earlier high-tech revolution with its epicenter of Silicon Valley. No one place or region will control any one clean-tech sector."
As for what kind of starting salary to expect, the study - "Clean Tech Job Trends 2009" and downloadable for free - lists a sampling of current green-collar jobs and what they pay. A LEEDS-certified architect, such as you aspire to be, earns an average salary of $58,700. (LEEDS, as you probably know, stands for Leadership in Energy and Environmental Design, a designation developed in 1993 by the nonprofit U.S. Green Building Council.)
Good luck!
Talkback: Would you like to get a "green" job? Do you have one? How is it working out for you? Tell us on Facebook below.