The economy isn't fixed yet, say Wall Streeters
Weak financial regulation and a flood of money in the system pose hidden dangers, experts contend.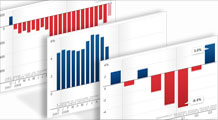 The economy has grown for five straight quarters, but there are signs that the recovery is still fragile.
NEW YORK (Fortune) -- The economy may be showing signs of life, but that doesn't mean the financial system is fixed or healthy growth has returned, according to a panel of high-profile Wall Street figures who gathered the night before the latest GDP numbers were announced.
For one thing, the government is unlikely to pass regulation that effectively regulates the financial-services industry, short seller Jim Chanos said Wednesday.
While the new administration came in "guns blazing," legislation has been too slow to emerge in the wake of the financial crisis, said Chanos, founder of the Kynikos Associates hedge fund, during a discussion on the future of markets hosted by the New York Historical Society. Chanos added that as more days ticked by, the urgency to regulate large financial institutions would pass.
"Ink will be spilled... but at the end of the day there will not be teeth in most of it," Chanos said, adding that any laws passed will likely be watered down to a point of meaninglessness.
He also referred to the Senate as the place "where interesting things go to die."
Chanos' remarks reflected the sometimes pessimistic tone of the group, which included Leon Cooperman, chief of the hedge fund Omega Advisors; James Grant, author of "Grant's Interest Rate Observer;" Lewis Sanders, former CEO of AllianceBernstein (AB); and moderator Byron Wien, vice chairman of Blackstone Advisory Services.
While the four men range from liberal to conservative, reluctantly bullish to deeply bearish, they agreed on one thing. They're worried about Washington's stewardship of the economy, ranging from the Federal Reserve's reluctance to draw down the flood of money it injected into the economy, coupled with legislative inaction on key issues including financial regulation.
Chanos, who has been meeting with officials in Washington since the financial crisis began to unfold, said that he advocates more aggressive financial-services regulation. But he predicted that Congress would push hard on the consumer-protection side, and less so on the other proposals that have been discussed to address things like too-big-to-fail banks, inadequate capital cushions, and derivatives.
By midterm elections next year, he said that officials will likely be hoping that the pressure to reform the financial system would "just go away."
"Washington, D.C., is an island surrounded by reality," said Cooperman. He told the audience that the Federal Reserve is creating a speculative environment by keeping interest rates so low.
Since the return on savings is so low right now, Cooperman said that people would be tempted to move their money into riskier assets with higher yields, like junk bonds, and that this was not necessarily a good thing.
On the topic of inflation, most panelists said it would be a worry in the future, with Cooperman and Chanos saying that they would not hold long-term government debt, and that they would in general reduce their exposure to Treasurys.
Sanders said that over the next few years Treasurys and municipal bonds would become among the lowest-returning asset classes in the world.
But Grant reminded the audience the definition of inflation should be much broader than higher prices for goods and services. Inflation, he said, is simply too much money in the system, of which rising prices can be a symptom.
Given the fact that the Fed has already increased its balance sheet by "a cool trillion dollars," Grant said that inflation is here.
The government has so narrowly defined inflation, going so far as to remove key consumer goods like food and energy out of what constitutes the core Consumer Price Index number, that it is difficult to use the CPI to truly measure inflation. There was recently inflation, he argued, when excess money in the system pushed up prices for things like real estate and fuel.
Inflation is all around us, Grant argued. We just can't see where the money is going yet.