Disney comes to China
The Mouse announces plans for a theme park in Shanghai, but can Disney learn from the mistakes it made in Hong Kong?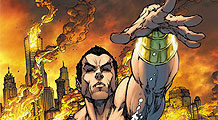 Disney said its purchase of Marvel Entertainment will allow it to bring many lesser-known comic characters to the forefront.
HONG KONG (Fortune) -- China's announcement on Wednesday that Walt Disney could go ahead with its long-planned theme park in Shanghai raised a few eyebrows in Hong Kong. That's because Disney's first foray into the China market, via Hong Kong in 2005, has been tepid at best -- and embarrassing at worst.
After years of missteps, Disney's annual visitors in Hong Kong are still about 25% below original targets set at the park's opening. In its first year, Disney's Hong Kong park attracted 5.2 million people, below its goal of 5.6 million. Visitor numbers fell 20% in the second year to just 4 million, and grew to 4.5 million visitors in the 2007-2008 fiscal year, still far below the numbers it hoped to draw.
Why? Because Disney (DIS, Fortune 500) failed to gauge local tastes, opened with a park that was too small to meet the grandiose expectations of its clientele, made some public relations mistakes early on, and took too long to adapt to local food, culture, and tastes, according to Allan Zeman, the chairman of the rival Ocean Park theme park in Hong Kong.
Ocean Park has thrived as Disney's Hong Kong park has faltered. In fact, the success of Ocean Park by contrast proves just how much Disney has to learn about catering to Chinese clientele.
Zeman, a Canadian businessman who has lived in Hong Kong for 40 years, put in place a major development and renovation project at Ocean Park when he heard Disney was coming to town. Since then, his attendance numbers have trumped Disney's -- earning Zeman the nickname "The Mousekiller" and accolades including case studies by Harvard Business School.
In the 2007-2008 fiscal year, for the fifth year in a row, Ocean Park tallied more than 5 million visitors -- half a million more than Disney. "I wasn't trying to kill the Mouse," Zeman says. "They've done it themselves."
Ocean Park was something of a run-down dump before Disney came to town. But the first thing Zeman did to the local amusement park was give his baby a new coat of paint.
Then he set to work, hiring a management team with years of U.S. theme park experience. He created new rides and attractions, adding four live pandas, a maze-like jellyfish aquarium, and other real-life animal attractions -- developing a park akin to Sea World and Six Flags combined.
Zeman also changed the food from outside concessioners to in-house, offering improved local Cantonese fare and putting, for example, a cafe serving the cuisine of Sichuan province, where Giant Pandas originate, next to the panda village.
The idea was to concentrate on education -- making the park the site of school field trips, for instance, with conservation and environmental preservation on the agenda. Zeman also added a train line to make getting around the park faster.
"Disney, on the other hand, came in very American," Zeman says. "Disney was a big brand, not really understanding the culture at the beginning. They had everything run out of the U.S. At the beginning there was a sense of arrogance: 'We're Disney, and don't tell us how to run a theme park.'"
Hong Kong Disneyland also earned the wrath of the Hong Kong press corps by taking a long time to respond to queries with answers that had to be approved through U.S. headquarters, while Zeman was available and responsive. Zeman even dressed as a giant jellyfish at a press conference to announce the opening of the jellyfish aquarium.
Ocean Park's moves proved so popular that attendance and profitability began breaking all previous park records. Disney's, obviously, did not. "Whether it's the food, the public relations, the media, it's important that they [Disney] really learn from some of the mistakes they made here," says Zeman. "They need to stay American, but with a few Chinese characteristics. They have to become more of a local experience, not unlike McDonald's or Pizza Hut, where they have this product, but they localize it with different flavors and toppings."
Plus, Disney was small, having located itself on a small plot of land on an outlying island off the main island of Hong Kong. "People thought, 'I'm going to Disney,' and when they got there, they got mini-Disney," says Zeman.
Disney in Hong Kong, which now is run by a Chinese managing director and has been working to adapt to local tastes, reiterated in a statement on Wednesday that it is planning a $452 million expansion. It still expects to draw visitors from the greater Pearl River Delta region, home to roughly 60 million people in Guangdong province, Macau and its surroundings, although population estimates vary. (Roughly 50% of visitors to both Ocean Park and Hong Kong Disneyland come from mainland China.) About 80 million people live within driving distance to Disney's proposed Shanghai site.
While the area earmarked for Disney -- in the Pudong district of Shanghai -- has yet to be defined and is still to be negotiated over the next few months, according to the Shanghai government, it is expected to be much larger than the space allocated in Hong Kong. The price tag has been reported to be one of the largest-ever foreign investments in China, in the neighborhood of $4 billion. "China is one of the most dynamic, exciting and important countries in the world, and this approval marks a very significant milestone for the Walt Disney Company," Disney president Robert A. Iger said in a statement.
Disney already has a well-known brand to capitalize on in China. Mickey Mouse, known as "Mi Laoshu" in Mandarin, reached 825 million people when Mickey cartoons aired on prime time Sunday night television during the 1990s. An entire generation grew up watching it.
So success in Shanghai will likely hinge on whether the Mouse has learned his lessons in catering to the increasingly wealthy -- and finicky -- Chinese consumer. In doing so, Disney will need to balance its all-American image of fantasy with the reality of what the Chinese want.