Get a green job in two years
Community colleges are at the forefront when it comes to training for eco-economy careers.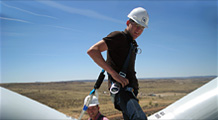 These community colleges, bolstered by federal funding and industry demand, are partnering with companies to train the green workforce.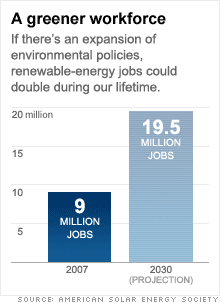 (Fortune Magazine) -- Community colleges have long held second-class-citizen status in the world of higher education. But they've suddenly become top tier when it comes to one important thing: training for new green-economy jobs.
In recent months, administrators at two-year schools across the country have been adding certification programs for everything from wind technicians to solar cell designers to energy auditors, positioning themselves at the forefront of a rapidly changing job market and spurring unprecedented spikes in enrollment.
In part the increase in demand at junior colleges is due to the recession: Many students can no longer afford pricey four-year colleges and are opting to attend two-year programs instead.
And the schools are about to receive a surge of funding thanks to the Obama administration, which has placed the country's 1,200 two-year institutions at the heart of its recovery strategy, allocating $12 billion over the next decade to help modernize the system.
But community colleges have also been nimble, reacting more quickly than their four-year peers to a changing job market.
In many ways the shift is logical. While junior colleges are often used as a stepping stone to a four-year degree, they're also adept at preparing two-year graduates for practical professions.
And because of their close ties to industry groups and employers, community colleges are often better able to gauge the changing economy, says Mindy Feldbaum, the author of "Going Green," a report on the role of community colleges in creating a green workforce. "They really understand the labor market and where there's demand," she says.
Already green partnerships between big industry and junior colleges are popping up around the country: IBM (IBM, Fortune 500) announced in September that it would work with Metropolitan Community College in Omaha to create a green data-center management degree, providing course materials and hardware.
GE (GE, Fortune 500) has donated a small wind turbine to Mesalands Community College in Tucumcari, N.M., and has plans to hire graduates of the school's new wind energy technician program. And at Milwaukee Area Technical College, local industrial giant Johnson Controls (JCI, Fortune 500) is building a 2,500-panel solar education farm where students can learn to become photovoltaic installers and designers.
In helping put together the programs, companies are also building a pipeline of potential employees. "Johnson Controls' headquarters is nearby, and it's looking for thousands of people," says Joseph Jacobsen, Milwaukee Area Technical's associate dean of environmental studies. "The baby boomers are retiring, and it's going to need new employees."
The jobs flow both ways: When Lake Region State, a community college in Devils Lake, N.D., needed an expert to run its new wind energy course this fall, it recruited Jay Johnson, a wind technician from nearby NextEra Energy Resources. Johnson says he was surprised by the level of interest: "We were hoping to limit the class size, but they were pushing to get in," he says. "They're savvy enough to know where the jobs are."