Funky math helped BofA close Merrill deal
A congressional inquiry reveals a forecast that glossed over Merrill's CDO problem. Did Bank of America mislead its shareholders?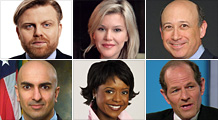 Would panic prevail? That was the question gripping the world in the days surrounding the fall of Lehman Brothers on Sept. 15, 2008. One year after that terrifying Monday, the people who struggled to cope with the financial crisis share what they were thinking as chaos broke out.
NEW YORK (Fortune) -- Lost in all the bickering between Democrats and Republicans when Bank of America officials testified before Congress last week was a seemingly crucial piece of evidence that seems to show the bank's executives relied on faulty data leading up to the December 5, 2008 shareholder vote on the $50 billion acquisition of Merrill Lynch.
Testimony before (and documents released by) the House Committee on Oversight and Government Reform last week paint a picture of BofA officials and their lawyers at Wachtell, Lipton, Rosen & Katz basing their decision not to reveal the extent of Merrill Lynch's growing fourth-quarter 2008 losses on a flawed "forecast." This forecast -- dated November 12, 2008 and prepared by Merrill Lynch -- omitted projected losses in November and December from Merrill's portfolio of CDOs (collateralized debt obligations) and other illiquid assets.
The omission of any projected write-downs for those CDOs in the computer model behind the November 12 document resulted in a "zero" being calculated instead of billions of dollars of losses -- as would become apparent a few weeks later -- making the projected pre-tax fourth-quarter 2008 loss in the computer model -- $8.942 billion -- far lower than the $18 billion pre-tax loss it would turn out to be less than a month later on December 10, five days after the shareholder vote.
"Bank of America saw the deficiency in the document," Rep. Dennis Kucinich (D-Ohio) said at the hearing, "but they have not shown us that they actually did any actual analysis to make up for Merrill's omissions. On the contrary, the evidence we have suggests that Bank of America pulled a number out of thin air." (For his part, Nelson Chai, Merrill's chief financial officer at the time, told Kucinich's staff that the "document was not intended to be a valid forecast, despite its title.").
The November 12 document is especially revealing not only for its omissions but also for the seemingly random tweaks Bank of America (BAC, Fortune 500) executives made to it as part of their internal deliberations about whether to make an announcement before the shareholder vote on December 5. At the bottom of a page described as "Merrill Lynch & Co. 4Q'08 Forecast," Bank of America's executives had upped the projected loss of $8.942 billion to $10.942 billion, an increase of $2 billion in projected losses.
Half of that additional $2 billion in losses, or $1 billion, came simply from something described on the document as "neil gut," or the "gut" guess of Neil Crotty, Bank of America's Chief Accounting Officer "rather than any actual analysis of Merrill holdings," according to notations on the document made by the Committee's staff prior to its release publicly last week. The Committee staff also noted that "Bank of America's top management and attorneys used" the seemingly randomly revised $10.942 billion in projected losses number "in making shareholder disclosure decision."
That process of whether to make the disclosure to shareholders began in earnest on November 12 when Bank of America's general counsel Tim Mayopoulos called Wachtell Lipton attorney Nicholas Demmo to reveal that Merrill had lost "$7B in October," that "Nov, so far, is flat" and wondering "do we have to get the # out?" to shareholders.
At that point, after seven business days in November, Merrill had shown Bank of America a $227 million loss for the month but that number had not been adjusted downward for the write-downs in the CDO portfolio since no number had been included for that in the model. Bank of America executives seem to have based their decision-making on the faulty model and appear to have done no due diligence of their own.
When Rep. Kucinich's staff asked Crotty about the November 12 document he said, according to Rep. Kucinich, that it was "of questionable validity" and that he did not have "time to delve deeply into the details of the forecast." Asked about whether the words "neil gut" on the document raised concerns to him, Tim Mayopoulos, Bank of America's general counsel at the time, testified at the hearing: "I understood that this forecast was in part a guess, that it was an estimate."
On November 13, Mayopoulos had a meeting with the Wachtell attorneys, including Demmo and Ed Herlihy and their meeting notes showed that Mayopoulos "assume[d]" November would be "better" than October but was worried "about not disclosing" (Wachtell's emphasis, suggesting there was some serious concern at the meeting about not disclosing the losses to shareholders.) Another set of notes from the meeting observed that Mayopoulos said that Merrill would "prob[ably] be deep in the red" for the fourth quarter and then revealed that the lawyers discussed whether Bank of America could just make a "trend disclosure" in the public filings about the deal and could discuss that Bank of America "expect[s] it to be no better than" some number and "might be worse." Mayopoulos remarked that it is "not the end of the world."
A week later, on November 20, Joe Price, Bank of America's CFO, had a meeting with his attorneys about the question of whether to disclose the Merrill losses to Bank of America's shareholders before the December 5 vote. On his copy of the November 12 "forecast" -- the document that omitted any write-downs for November and December in the CDO portfolio -- Price wrote that "Concluded [per] Tim [Mayopoulos] and Ed [Herlihy] that no pre meeting disclosures are necessary."
A spokesman for BofA told Fortune that it is important to view the actions of the bank's executives in context rather than in hindsight. "In mid November 2008, the Merrill projected losses for 4th qtr 2008 were estimated to be in line with Merrill losses of the prior 5 quarters. For that and other factors, inside and outside counsel determined no intra-quarter disclosure was required. Apparently, some people looking at everything a year later with perfect hindsight may think they would have made a different decision, but at the time and without the benefit of 20/20 hindsight business people and counsel made good faith decisions based on the best information and estimates available." (Requests for comment from Wachtell went unanswered.)
The irony is that had BofA's executives simply been more diligent in understanding the implications of the omissions in the November 12 "forecast," and released the magnitude of the growing Merrill losses to BofA shareholders prior to the December 5 vote, they might have avoided accusations they violated securities laws. Some in Congress, particularly Rep. Kucinich, and some investment bankers on Wall Street believe BofA's senior executives violated securities laws by not releasing the growing losses to shareholders. In August, Rep. Kucinich sent Mary Schapiro, the Chairman of the Securities and Exchange Commission, a letter urging her to investigate the potential violation.
Indeed, the lack of public disclosure to shareholders about the growing losses at Merrill Lynch deprived them of their right to have all the available, material information at the time they were asked to vote on the merger. That would seem to be a violation of securities laws. The question still hanging in the air is whether Mary Schapiro and the SEC will do anything about it.