Holiday travelers: Expect crowded highways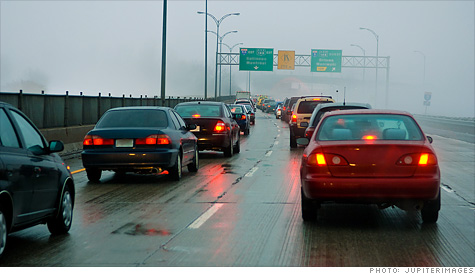 NEW YORK (CNNMoney.com) -- Expect crowded skies and highways if you're planning to travel this holiday season, as millions more take to the road, according to a forecast issued Wednesday by motorist group AAA.
Holiday travel is expected to jump 3.8% compared to last year, an increase of more than 3 million travelers compared to the 2008 season, AAA said.
The travel increase is due to Americans becoming more confident about their finances, despite the ongoing economic weakness, according to the organization.
"High unemployment and reduced discretionary income will continue to keep some would-be travelers at home, but this year many consumers appear to be focused on controlling costs rather than scrapping trips," said the AAA, in its report.
A total of 87.7 million Americans are expected to travel at least 50 miles from home during the 12-day period from Dec. 23 to Jan. 3, up from 84.5 million in 2008, said AAA. The majority of these people -- some 88% -- will drive, while 5% will fly and the remainder will travel by train, bus, boat or other means.
AAA expects a 4.4% boost in holiday driving and a 2.9% rise in air travel, year-over-year.
"Hold your breath when you hit the airport," said Tom Parsons, travel guru at BestFares.com, who expects "super full" planes because of the airline industry's capacity reductions.
Flights have been cut back so that the airlines can reduce costs, which means a greater chance of cancellations from bad weather, he said.
"There's no wiggle room left for the airlines to put people on other planes if there are cancellations," said Parsons. "We have to hope for the perfect no-storm."
Travelers seemed undeterred by higher prices, despite the economic weakness, said AAA, noting that gas prices were higher by 50 cents per gallon in November, year-over-year, while airfares and the price of car rentals jumped 2%.
But hotel prices declined by 10% for hotels rated three diamonds, out of five, by AAA, and by 6% for two-diamond hotels.
AAA based its forecast on a survey of 1,350 households conducted by IHS Global Insight.