How much should I save?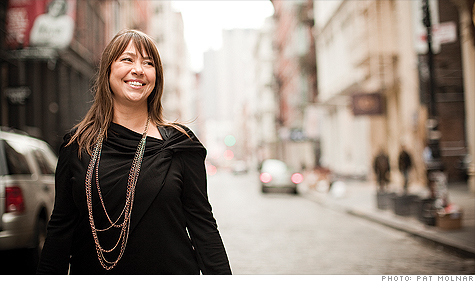 (Money Magazine) -- Julia Labaton has spent 10 years building her own business, a PR agency serving the beauty industry, and it has prospered through two recessions.
But like many entrepreneurs, she's plowed earnings back into the agency at the cost of her retirement. She has only $36,500 saved for that, and just $4,000 in cash earmarked for emergencies.
"I have no idea where I should be at this age in terms of savings," she confesses.
What the planner says
As she fears, Julia is behind. To retire at 65, as she plans, and still maintain her lifestyle, she'll need a nest egg of $1.7 million, says New York planner Laura Mattia.
Fortunately, "Julia's young enough to catch up." But to do so, she'll need to put away a daunting $1,500 a month, more than double the $625 she's saving now.
She can also improve her investing strategy - she's currently in high-cost funds that have underperformed the market, and she's far too stock-heavy. While she's increasing her savings, she ought to be building a bigger cash cushion too - ideally a year's worth of expenses since she's single and self-employed.
What she should do
RAMP UP RETIREMENT. For now, Julia thinks she can stash $500 more a month, of which $300 should go toward retirement. (The rest can go to her emergency fund.) Longer term, she'll look to increase business revenue to get to $1,500 a month. She's allowed to set aside only $5,000 a year in her traditional IRA. But as a business owner, she can open a Simple IRA, and save up to $11,500 in 2010.
ALLOCATE FOR STABILITY. With 95% of her portfolio in stocks, Julia is taking on too much risk. A 38-year-old might normally be advised to have a 75% stock/25% bond mix. But with the added risk of being self-employed, she should be more like 60%/40%, says Mattia.
SWAP FUNDS. Mattia suggests Julia trade high-cost underperformers for lower-cost index funds and ETFs. Among the recommendations: moving 7% of her IRA to midcap U.S. stocks via MidCap SPDR (MDY), 7% to small-caps via the iShares Russell 2000 ETF (IWM), and 9% to an international ETF like iShares MSCI EAFE (EFA).