IMAX looks for life after 'Avatar'
NEW YORK (CNNMoney.com) -- Is there life after "Avatar" for IMAX?
The company known for its giant movie screens has been one of the biggest beneficiaries of the mania surrounding the blockbuster film. Now, IMAX is hoping for more hits in 2010.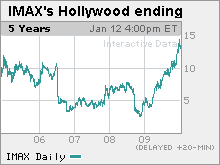 But it is also embarking on an ambitious plan to bring the IMAX experience to the home and plans to expand abroad. IMAX (IMAX) may be helping to change the way people watch movies -- and both Hollywood and Wall Street have taken notice of the Mississauga, Ontario-based company.
IMAX has been working with the major studios for several years now. But "Avatar" is the best performing movie it has shown.
The IMAX version of "Avatar" has pulled in more than $60 million at the box office, about 15% of the movie's overall $420 million take in the U.S. so far. Still, IMAX appears to have room to grow -- the IMAX version of "Avatar" plays on only 2.5% of the total screens showing the movie.
The combination of 3-D effects and the larger-than-life screens allow IMAX-equipped theaters to charge a higher ticket price for the movie. It's no surprise then that the company is expected to post a 50% increase in sales in 2009 and make money after three straight years of losses.
But IMAX can't ride on one movie's coattails forever.
That's why the company is attempting to further develop its brand. It is focusing on rolling out more 3-D versions of movies so that it can increase the amount of money it makes from joint ventures with theaters.
Despite the success of "Avatar", the majority of IMAX's revenue still comes from its traditional business of installing and maintaining its equipment in movie theaters and museums.
A smaller but more rapidly growing source of sales comes from cutting deals with theaters to show 3-D versions of movies in return for a share of box office sales and concessions. IMAX also charges the studios to digitally remaster their movies to make them suitable for 3-D viewing.
"That's a model we like because we like betting on ourselves, especially since our business has grown," said IMAX CEO Richard Gelfond.
Revenue from joint ventures increased 175% in the third quarter of 2009 from the same prior year period, and the company now has 117 revenue sharing arrangements with theaters, up from 51 at the end of 2008.
"That's definitely a key part of the IMAX growth story," said Martin Pyykkonen, an analyst at Janco Partners.
2010 line-up: While "Avatar" -- produced by News Corp.'s (NWSA) 20th Century Fox unit, is responsible for IMAX's recent buzz, the company is not tied exclusively to Fox.
IMAX is also working with studios such as Summit Entertainment, Walt Disney (DIS, Fortune 500), Dreamworks Animation (DWA) and Warner Bros., with a 2010 line-up including "Twilight Saga: Eclipse," "Alice in Wonderland," "Shrek Forever After" and other potential big hits. (Warner Bros. is owned by Time Warner (TWX, Fortune 500), the parent company of CNNMoney.com.)
But film industry experts wonder how these movies will compare to "Avatar." A less-than-stellar line-up of movies could hurt the company.
Jeff Bock, a box office analyst at Exhibitor Relations in California, said that "Avatar" is a "once in a blue moon" type of movie, and others will likely pale in comparison.
"It takes a film like "Avatar" to change the industry," said Bock. "But where does that leave us? There's nothing on the release schedule that has the industry quivering."
That's why more films may be made especially with IMAX in mind. So instead of making a movie and deciding to show it in 3-D on IMAX as an afterthought, IMAX technology will be part of the original vision and plan for the film.
"If you can create a spectacle, they will come, as we have no doubt seen with 'Avatar'," Bock said.
But even without monstrous hits like "Avatar," IMAX may be protected by possible flops because it plans to make more movies IMAX-ready than it has previously.
"The pipeline of films for 2010 is the largest in the company's history," said Steven Frankel, a media analyst at Brigantine Advisors. "There will be something new and different every week at IMAX.."
Out of the theater: As the company prepares for a busy year ahead on the silver screen, IMAX is also looking to enter people's homes.
IMAX, Discovery Communications and Sony Corporation are launching an entirely 3-D television channel later this year. The company also announced plans to develop a 3-D camera, which it hopes to officially release in 2011.
Gelfond said the in-home innovations won't stop here, and that "there are more things at play."
Janco's Pyykkonen speculated that the company could create its own version of an in-home sound system, for example.
Looking abroad: As IMAX grows in the U.S., it is working to increase its audience abroad as well. The company has 158 theaters in 44 countries, up from 136 theaters at the end of 2008.
IMAX has revenue sharing agreements with only 10 of those theaters, but that's up from three a year ago. Gelfond said that the joint revenue model is being used in two of its largest markets outside the U.S. -- Japan and the United Kingdom -- and that the business is doing very well in these areas.
"We try to find territories where the economics are similar to North America," he said.
Time to sell?: In 2006, IMAX put itself up for sale, but after a lack of interest from potential buyers, it took itself off the shopping block and remains an independent company today.
In November, the company received a $75 million line of credit from Wells Fargo's Wachovia Capital Finance Corporation and credit agency Export Development Canada, potentially giving IMAX the funding it needs to expand and reducing any urgency to sell the company.
But with its stock having tripled in 2009 and now trading at its highest level since 2000, it may seem like a good time for IMAX to try again. "Never say never, but so far, I can't say there has been any real buzz," said Pyykkonen.
Potential buyers such as movie theater chain operators Regal (RGL) and Cinemark (CNK) already benefit from IMAX's presence in their theaters, they probably aren't in a rush to purchase the company, Pyykkonen said.
The stock's big run up might also make an acquisition too costly, he said. Based on its current stock price, IMAX is worth about $815 million.