Who would want to be GM's new CEO?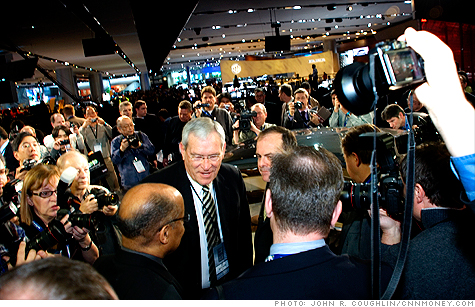 DETROIT (CNNMoney.com) -- The most intriguing question facing General Motors is the simplest one: Who's going to get behind the wheel?
At first, it would seem that nobody in their right mind would want to be the chief executive officer of GM. The automaker has been losing market share in the U.S. for decades and has staggering losses that go back five years.
Two CEO's were shown the door in 2009, one by the Treasury Department's auto task force as the price for a bailout, the other by the board Treasury put in place after GM filed for bankruptcy.
Former AT&T (T, Fortune 500) CEO Ed Whitacre, who had been the non-executive chairman of the board, now finds himself in the CEO post as the search for a new boss begins.
Whitacre spent the 2010 auto show besieged by a scrum of reporters whenever he briefly appeared at the GM exhibit. So Whitacre's successor will need to get used to intense scrutiny.
Experts say that even with all the changes GM made during its bankruptcy, its long-term future is still cloudy. Throw in the fact that last year's bailout will mean pay limits on the new boss and the government will likely continue to own a majority stake in the company for at least a year or two, and the job doesn't seem like it's all that attractive.
Yet, the general consensus at the auto show was that GM will have no problem finding eager, qualified candidates to take over the company.
Big challenges, bigger rewards. First, the pay limits probably aren't so tight as to make the job unattractive.
GM just hired Chris Liddell to be its new chief financial officer. Liddell, who held the same post at Microsoft (MSFT, Fortune 500), will get an annual cash base salary of $750,000 and company stock valued at $5.5 million, even though GM shares are not yet publicly traded.
There is a general belief that despite GM's problems, that stock could perform well after an eventual initial public offering later this year or 2011.
Shares of Ford Motor (F, Fortune 500) soared about 360% in the past year as Ford returned to profitability and the threat of bankruptcy passed. And most analysts believe that profits could return at GM once auto sales pick up even modestly.
"They'll find a way to compensate with stock which, if all goes well, could be worth tens of millions down the road," said GM Vice Chairman Bob Lutz, who even said he wouldn't mind the job himself. But Lutz conceded that his age -- 78 -- and his outspokenness makes that unlikely.
Then there's the prestige of leading what is still one of the globe's premier corporate brands, even with all of its problems. "It looks good on your resume if nothing else," Lutz said.
Credit for a turnaround. The chance to be the one in charge when GM does finally turn around would also look good on a CEO's resume.
Much of the heavy lifting for such a turnaround has already been accomplished through bankruptcy. GM has shed plants, cut workers, eliminated brands and closed dealerships. Those steps, while painful, all helped the company to greatly improve its balance sheet.
But if a leaner and meaner GM can start to pick up market share in the U.S. again and quickly return to profitability, the new CEO will still get a large share of the credit. The ego boost could more than compensate for any pay limits.
"It's a risk-reward trade off. Why does anyone want to be the head coach of the Lions?" said Jeff Schuster, executive director of global forecasting at J.D. Power & Associates, referring to Detroit's perennial cellar-dwelling football team. "You can be the person that fixes it."
Fritz Henderson, Whitacre's predecessor, found his leash from the GM board relatively short. He was only CEO for eight months before he resigned under pressure.
But he was picked by Treasury's auto task force to succeed Rick Wagoner, months before the current board was put in place. Henderson was also one of the GM-lifers blamed for the company's insular culture.
There's an assumption by many that a new CEO, most likely from outside the company, will have more time to turn things around. Even if a new CEO fails, that person may not necessarily be found at fault.
"If it doesn't work, it would be very difficult to blame the new CEO after decades of mismanagement," said auto analyst and consultant John Casesa of the Casesa Shapiro Group.
Mulally shows the way. At the auto show, the answer many gave for why someone would want to be GM CEO came down to a somewhat ironic two-word answer -- Alan Mulally.
The former Boeing (BA, Fortune 500) executive became CEO of Ford just over three years ago, steering the company to an impressive turnaround that not only kept it out of bankruptcy, but allowed it to increase its market share in 2009 for the first time since 1995.
The auto show was a virtual Ford victory lap, as it swept both car and truck of the year honors, beating out GM offerings both times. Mulally bounced around looking as happy as Whitacre seemed besieged.
"The experience at Ford shows what can be done at GM. Not only can you find a good CEO, but that these companies can be revived," said Casesa. "The government has given this company probably three years of runway. That's a lot of cushion for a new CEO."
Mulally's success is one of the keys behind the calls for GM to go outside the company -- if not the industry -- for a new boss.
But picking someone without ties to Detroit is not a guaranteed solution for GM. Former Home Depot (HD, Fortune 500) CEO Robert Nardelli, a veteran of General Electric (GE, Fortune 500), wasn't able to stop the slide at Chrysler Group in the just less than two years he was in charge there.
So there will be a lot riding on who GM taps as its new boss. That's what makes the search so interesting.