Health care: A 'goldmine' for fraudsters
NEW YORK (CNNMoney.com) -- There's a group of people who really love the U.S. health care system -- the fraudsters, scammers and organized criminal gangs who are bilking the system of as much as $100 billion a year.
Health care identity theft dominated all other crimes in the sector last year, according to Louis Saccoccio, executive director of the National Health Care Anti-Fraud Association (NHCAA), an advocacy group whose members include insurers, law enforcement and regulatory agencies.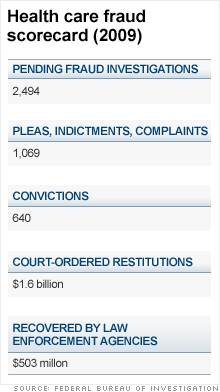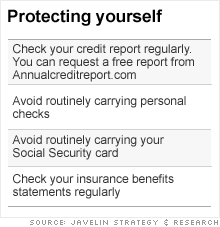 The most common method of health care identity fraud occurs when someone with legitimate access, such as a hospital administrator or a doctor's assistant, sells patients' information to organized criminal groups.
Increasingly, criminal groups are hacking into digital medical records so that they can steal money from the $450 billion, 44-million-beneficiary Medicare system -- making the government, by far, the "single biggest victim" of health care fraud, according to Rob Montemorra, chief of the FBI's Health Care Fraud Unit.
All the stolen information includes medical insurance data and Social Security numbers, explained James Van Dyke, president of Javelin Strategy & Research, a research firm specializing in trends in security and fraud initiatives.
Van Dyke said that, with the information, the fraudster falsely bills Medicare and private insurers for drugs, equipment or treatment that were never prescribed.
With medical equipment, for example, fraudsters might order a wheelchair for someone who doesn't need it and bill Medicare for two or three times the cost, pocketing the money. For home health care, criminals profit by the false billing of insurers for care of people who never asked for it.
On a smaller scale, criminals also sell medical information in some communities to uninsured people who are desperate to get medical care.
To collect the money, the criminals set up shell billing companies that disappear as soon as there's any indication of an investigation, according to the FBI.
For patients, health care fraud can lead to tampering with your medical information, which could put your health at risk. Experts warn of serious risk of injury, or even death, if one's person's medical information is entered into another patient's record, because of potential misdiagnosis or incorrect treatment.
Health care fraud can also cost you money, either directly through bills that aren't yours or indirectly through time lost trying to resolve the breach.
The payoff for health care identity fraud is huge. In 2008, criminals pocketed more than $19,000 per incident of health care fraud -- four times the amount gained through overall ID theft, according to Javelin. The cost to the individual victim was nearly $1,200, more than double that of overall ID theft.
Pay and chase
One key reason having Medicare information is a virtual "goldmine" for fraudsters, according to Montemorra, is the system's "pay and chase" system -- under the law, Medicare must send out payments within a very short time period.
He said private insurers are better at preventing fraud -- although not immune from it -- because they're so much smaller.
Montemorra said the process heightens the potential for fraud and other forms of abuse because the government is more often reacting to cases of abuse instead of preventing them before they happen.
Published reports late last year said about $47 billion were made in questionable Medicare payments.
"Since we all pay taxes, we are all our victims because the cost of this [crime] is coming out of our pockets," aid Montemorra.
Recognizing that to overhaul the health care system requires stopping the billions of dollars criminals are drawing as Medicare spending itself is soaring, the Obama administration created a multi-agency Medicare Fraud Task Force in 2009 to combat the problem.
Prime target areas for health care fraud are those with lots of Medicare recipients, such as Miami's elderly population, or those where a large chunk of the population is getting government aid, such as Detroit.
"Miami is the 'Ground Zero' for a lot of where these schemes begin, and they're spreading like cancer to California, Detroit and Houston," said FBI's Montemorra.
Montemorra and Javelin's Van Dyke are concerned that as the health care industry rushes to transition from paper records to a digital format, it could escalate incidents of frauds and scams in the short term.
President Obama has set a five-year deadline for all Americans to have electronic medical records, saying digital records will save billions by cutting waste and eliminating repeated tests and errors.
Providers are rushing to transition to digital to gain a windfall from the administration's financial incentives and avoid penalties, according to Van Dyke.
"Our concern is that as they put more patient records online, they are not necessarily doing it in the most secure way to prevent breaches," he said. "When you put a substantial amount of information online in a short period of time, it will lead to more open doors."